With over 40 vineyards and wineries along The Connecticut Wine Trail, there are plenty of tastings and options to keep you busy all summer long. One of our favorite places to taste happens to be just off the coast in Stonington, CT, a town snuggled right in the middle of the borders between CT and RI.
Stonington Vineyards is located just at the end (or beginning!) of the wine trail. Nestled on a quiet country road, the entrance invites you down a road lined with endless rows of growing and ripened grapes. The beauty of this place comes up quickly, with the gorgeous open deck of the tasting house, the stone walls rambling throughout, the tasting gazebo and gardens, and a 58 acre vineyard filled land that seems to go on for miles.
This is a working farm winery, best known for its barrel fermented Chardonnay and its proprietory blends Seaport White and Triad Rose (they also produce Reisling and Cabernet Franc). They offer guided tours and an overview of their wine making process. The vineyard was established by Nick and Happy Smith in 1987, when they purchased 58 acres in the Stonington Uplands on which wine grapes had been planted earlier in the decade.  The majority of their wines are sold from the tasting room with the balance sold to fine restaurants and wine shops throughout Connecticut and Rhode Island. They produce 6,000-7000 cases per year and sell about 90% of their production at retail from their tasting room. One look at their wall of excellence and you know that this brand has built up an amazing legacy over the years.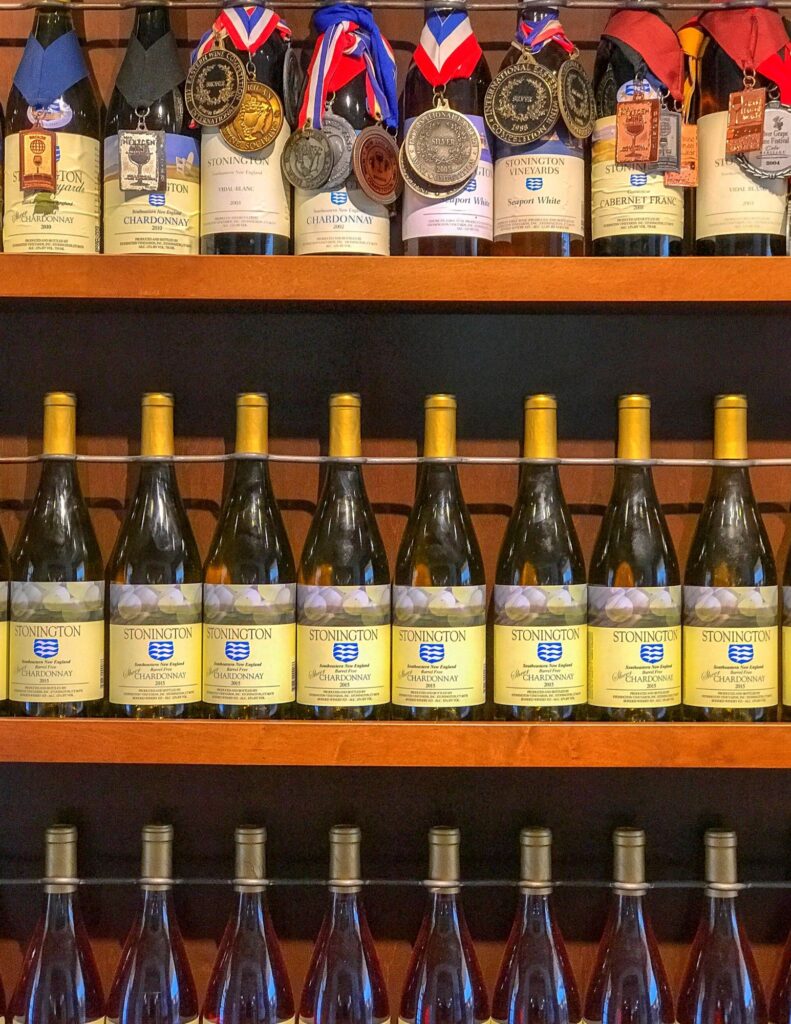 With your choice and bottle picked out, it's time to enjoy a picnic on the grounds. Because of the open fields adjacent to the property, kids are welcome to join in on the day of fun. There is also a gallery and a gift shop that sells wine and Connecticut related gifts and accessories. 
Stay for the day or make your way to neighboring Mystic and Watch Hill, located just minutes from the property. The signs might say Connecticut, but you'll feel transported to Napa or the Tuscan hills without having to leave the county.
Tour time: 30-60 minutes
Other amenities: Dining Nearby, Dining nearby, Gift Shop, Parking, Parking
Pricing: Tours free.
Other Amenities: ADA Compliant, Bus Parking, Gift Shop, Guided Group Tours, Meeting/Event Facilities, Pet Friendly
please check their website for COVID practices and updates