The body of water known as Katama Bay separates Chappaquiddick Island from the mainland of Martha's Vineyard and connects the town of Edgartown with the Atlantic Ocean. Katama, which means "crab-fishing place" in the local native Wampanoag, is a shellfish lovers dream. Oysters, a bivalve mollusk that have been enjoying a culinary renaissance in the last decade, are the beneficiaries of the perfect growing conditions of the bay's deep waters and strong currents. The natural resources of the vicinity help produce a flavor both briny and sweet and a shell that is clean, large and deep, making them highly sought out by chefs, diners and distributors all over the country.
Katama Bay Oysters are farmed by several growers, including Signature Oyster Farm, run by Ryan Smith. Ryan grew up on the Vineyard, the son of a commercial fisherman. While he wanted to follow in his father's footsteps, his dad was concerned about the future of the industry; the commercial fishing business was battling regulations, depleted inventories and resources. He encouraged his son to explore aquaculture as he saw a better and more secure future for him if he could find a way to farm his own product.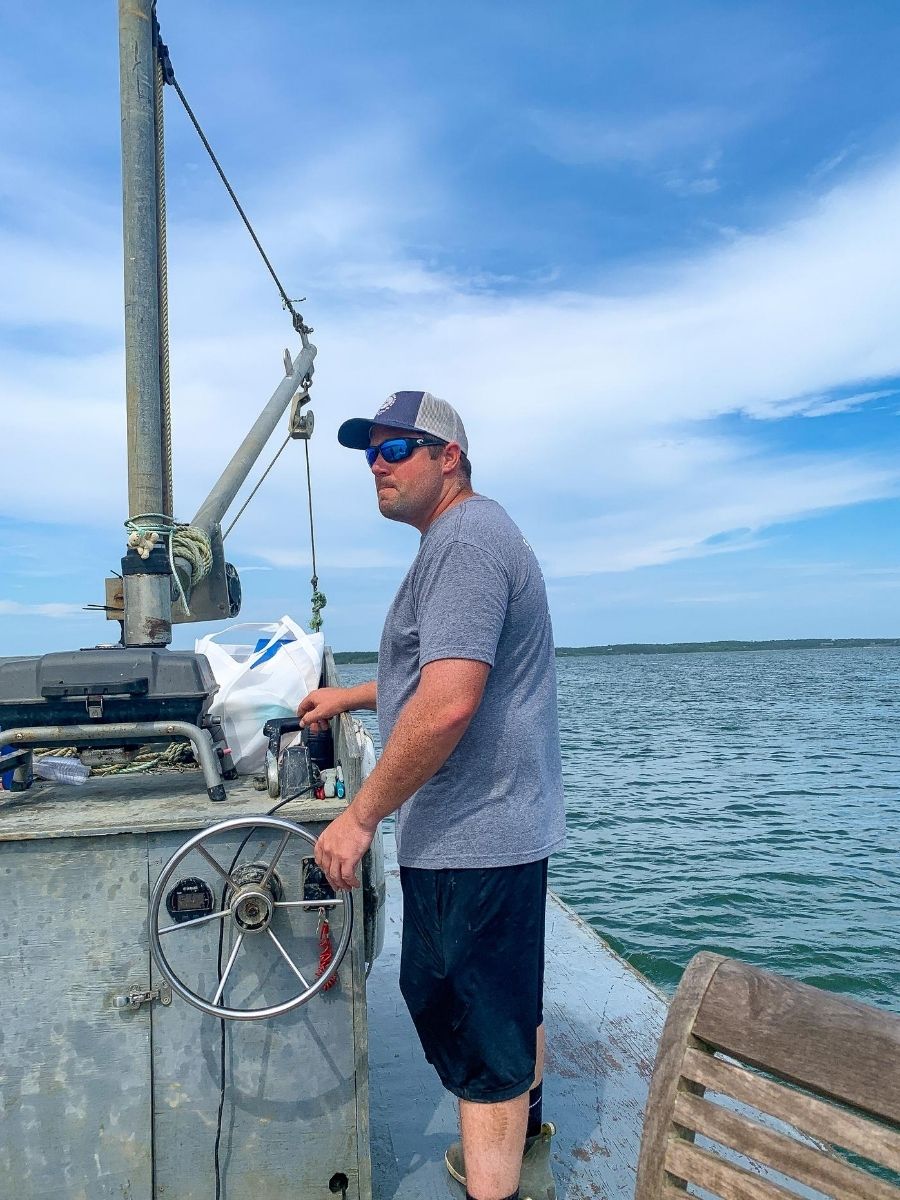 After a little research, oysters seemed like the smartest way to go as there were other farms already achieving some success. Just starting a family with his wife Julia, who he met just around the harbor on Norton Beach, he loved the idea and stability of being able to work at home in the bay versus out in the open ocean. He took all the money he had made on a fishing job that wound up going bust and applied for a farm grant in Katama. He bought 200 cages, 2000 grow bags, a truck and a boat and set out to make his mark.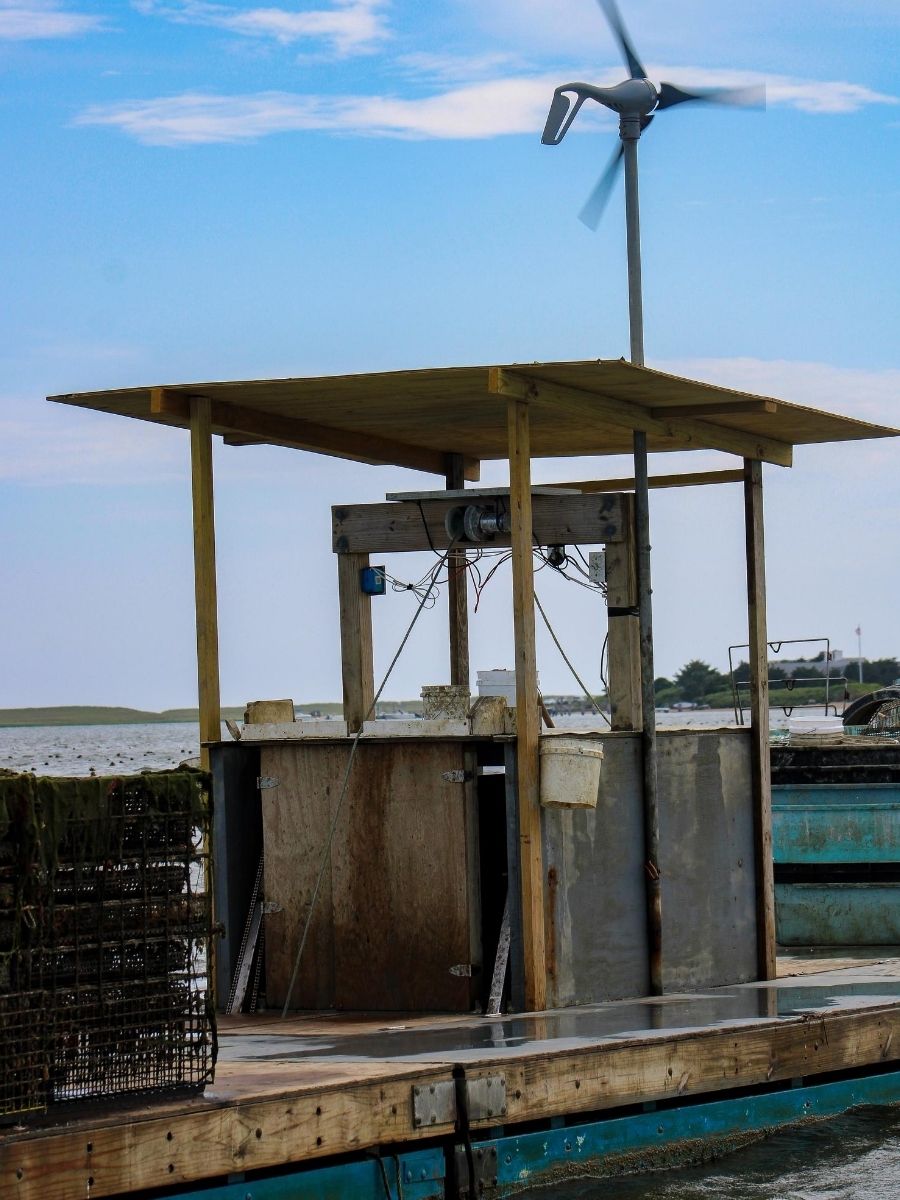 While the first years were a learning curve, his business and expertise quickly grew. He built everything for the farm himself, including a wind powdered tumbler which they use every day during growing season and right when they are ready to go to market. Ryan found that while the oysters are growing, tumbling them makes the oyster shells stronger, and it also keeps the shape rounder, cups deeper, and meats plumper. When they are ready to go to market, it helps chip the fine edges and new growth so opening them is easier.   
While the 365 days of work can be exhausting and the elements a little rough (summers on the water are beautiful, but the winters can be cold and brutal) you can tell by talking to Ryan that this is a labor of love and the pride he has for his crops runs as deep as his cages. He jokes that he names all of his oysters (and at almost 2,000,000 that's a lot to remember!) and he can recognize them all throughout their growth cycle.
With three children who love to help dad, and his wife Julia now helping out with marketing and organizing their new Oyster Farm Tours, it has truly become the family business Ryan always dreamed of. They sell oysters year round in Boston and to distributors all over the country, and locally on island to restaurants and businesses in Oak Bluffs, Vineyard Haven and Edgartown. Chances are, if you are out eating oysters and see Katama Bay as the origin, it's one of Ryan's. So next time you're out to dinner and order a dozen on the half shell, be sure to say hi before you slurp – chances are these little guys once had a name!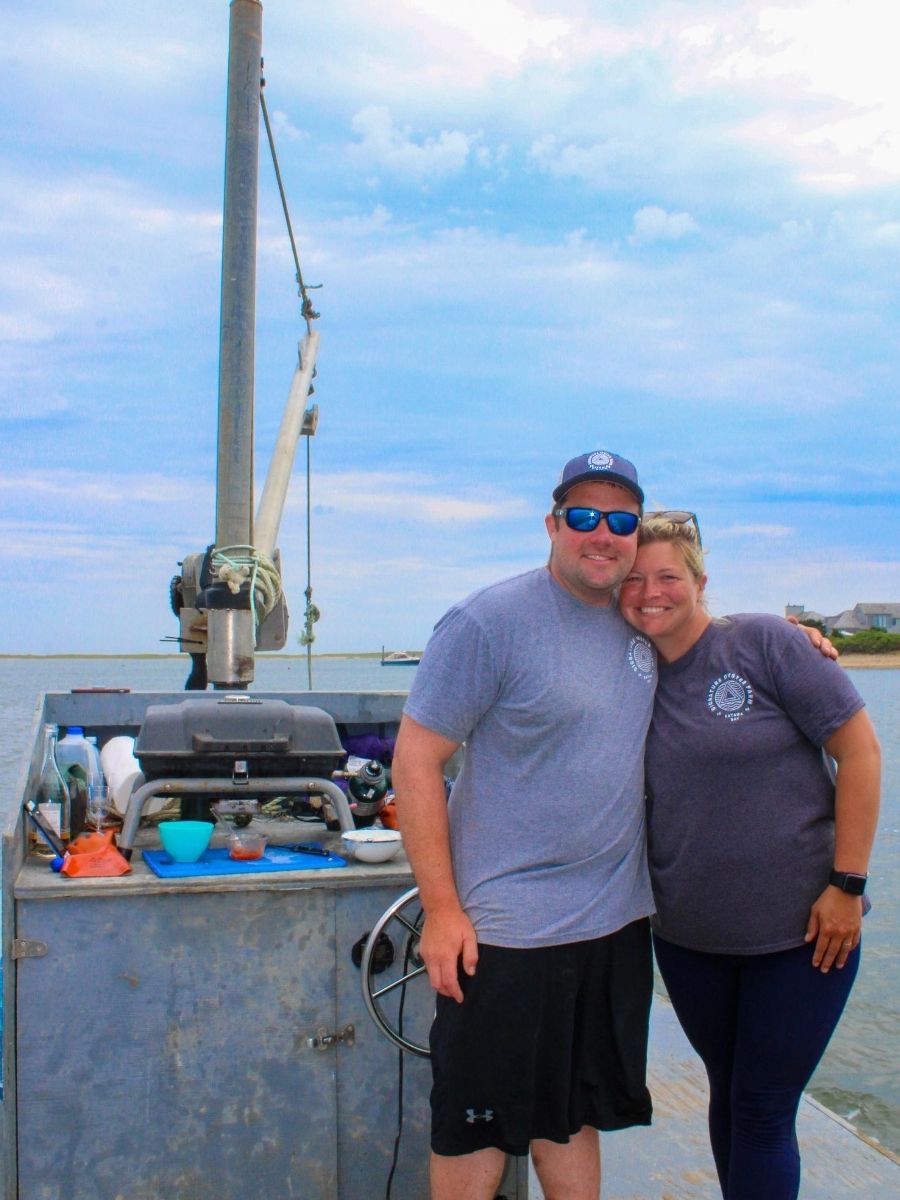 Every year, in early June, Ryan buys 2 million baby oysters that are the size of a grain of sand. They are placed in bins with fine mesh screens inside their tidal powered nursery. The farms are strategically located in the deepest waters and strongest currents of Katama Bay. They are always fully submerged in the nutrient rich waters, and are feeding 24 hours a day.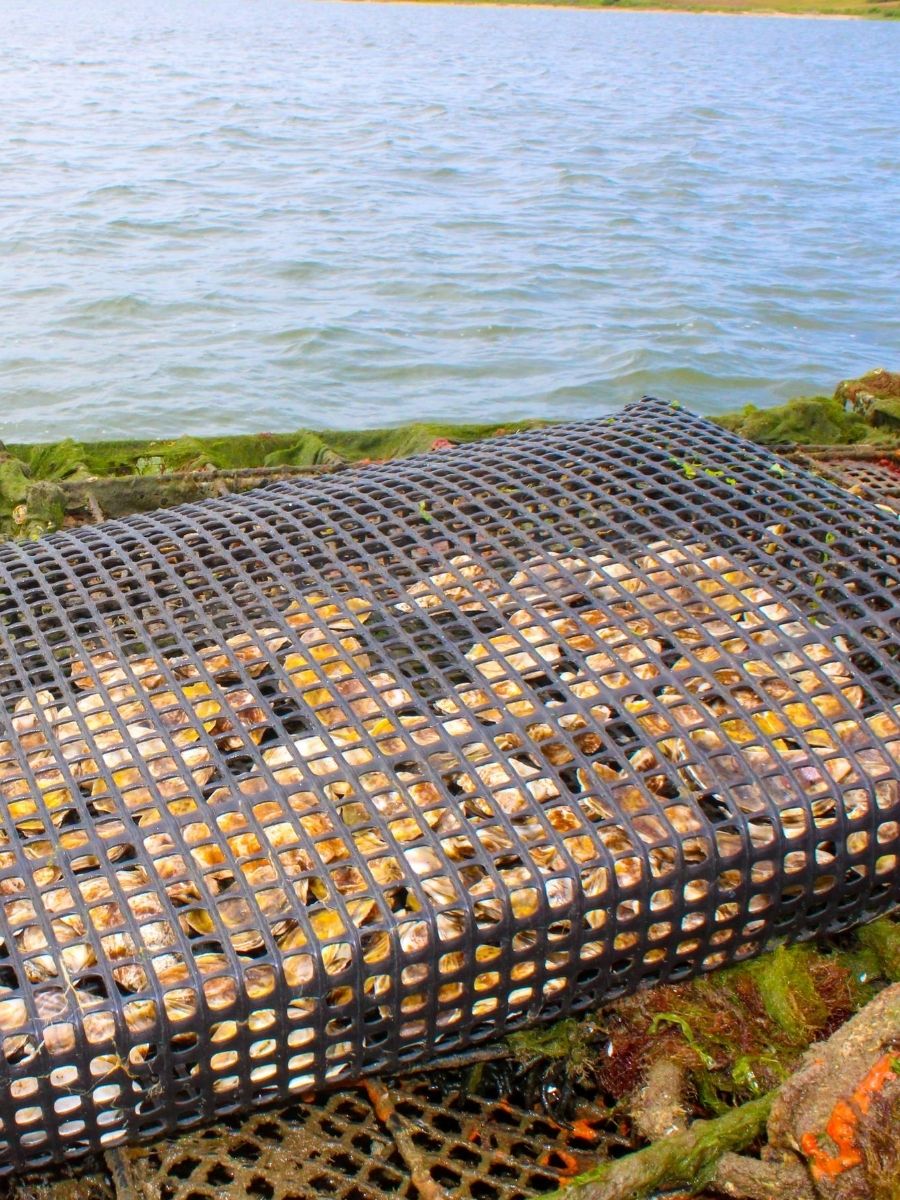 The upweller swings around a mooring block force feeding the oysters with each tide. This requires no energy to operate. Every week they split the seed into more bins with larger size mesh screens. Everyday Ryan or his staff goes to the nursery and hand stirs the seedlings to ensure that the oysters don't start to clump and grow together (something that naturally happens in the wild).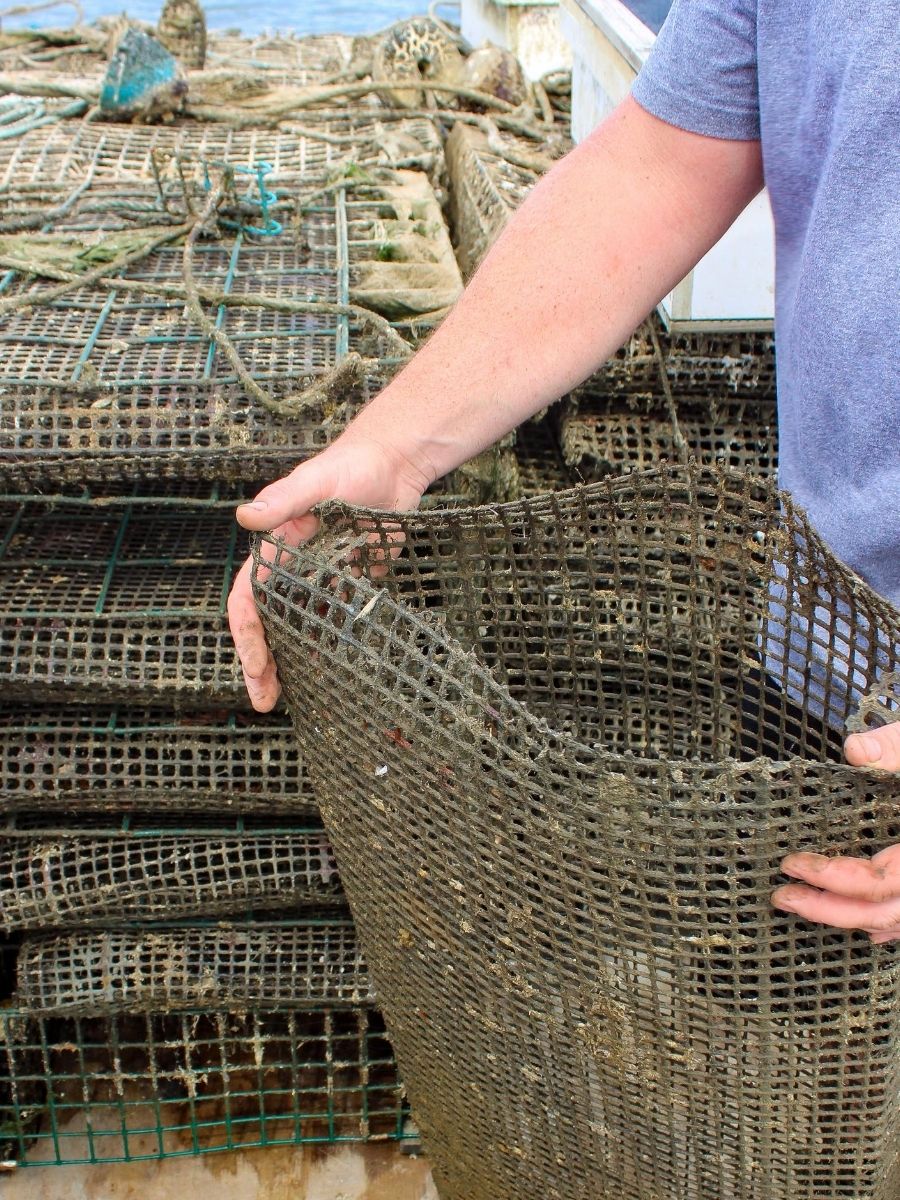 By July they have grown to about 1/4" and they are then moved to a rack-and-bag system that are moored to a buoy. The racks are lowered down and sit in the 8 to 12 feet of water.  Once the oysters are in the farms, which are located out in the narrows of the bay, the oysters have to be tended to daily. Barnacles and sponges like to grow on the cages, which can be a nuisance to the adolescent mollusks. The cages need to be shaken so the shells don't stick to one another and the bags are cleaned weekly to promote more water flow and better growth.
By November, the oysters have reach up to 3″ and stop growing. The shells are also a very important part of the quality. The bay produces oysters with a thicker shell which means they are easier to shuck and produces a cleaner oyster. Throughout the winter the oysters continue to take ride in the tumbler to help chip the outer edges so that by springtime they will have grown the thickest shells and formed the deepest cups.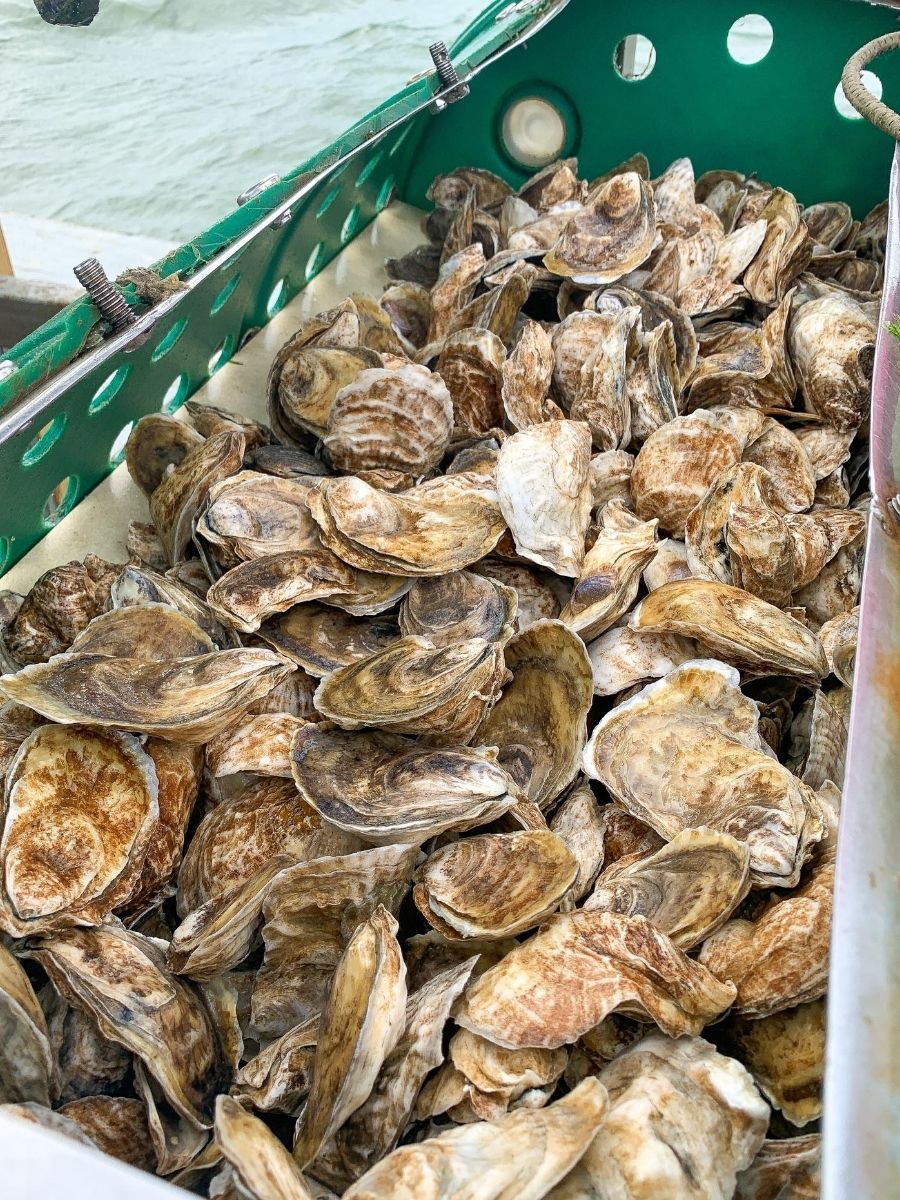 A new feature for the company is their Oyster Farm Tour. Ryan and Julia meet you right at Katama Landing where you will hop on board their flat bed vessel, complete with a table and chairs.  A scenic 15 minute cruise brings you to their two acres, where you will then be able to watch and learn how the entire farming process works. Bring along your favorite Rose or Bad Martha Beer and watch as they harvest, shuck and serve oysters right on the spot. A meal doesn't get any fresher than this!  They sever both on the half shell and Rockefeller style. We were so obsessed with Julia's recipe for Garlic Butter that we had to have it for ourselves. Scroll down to get the recipe. The tours last about 90 minutes and offers some of the best views in all of the Vineyard. And we couldn't say more about the hosts, who are so warm and welcoming that you feel like you have two new friends before you return to shore.  It's a a perfect way to enjoy any day on the island. The tours are $120 per person, with a 6 person maximum.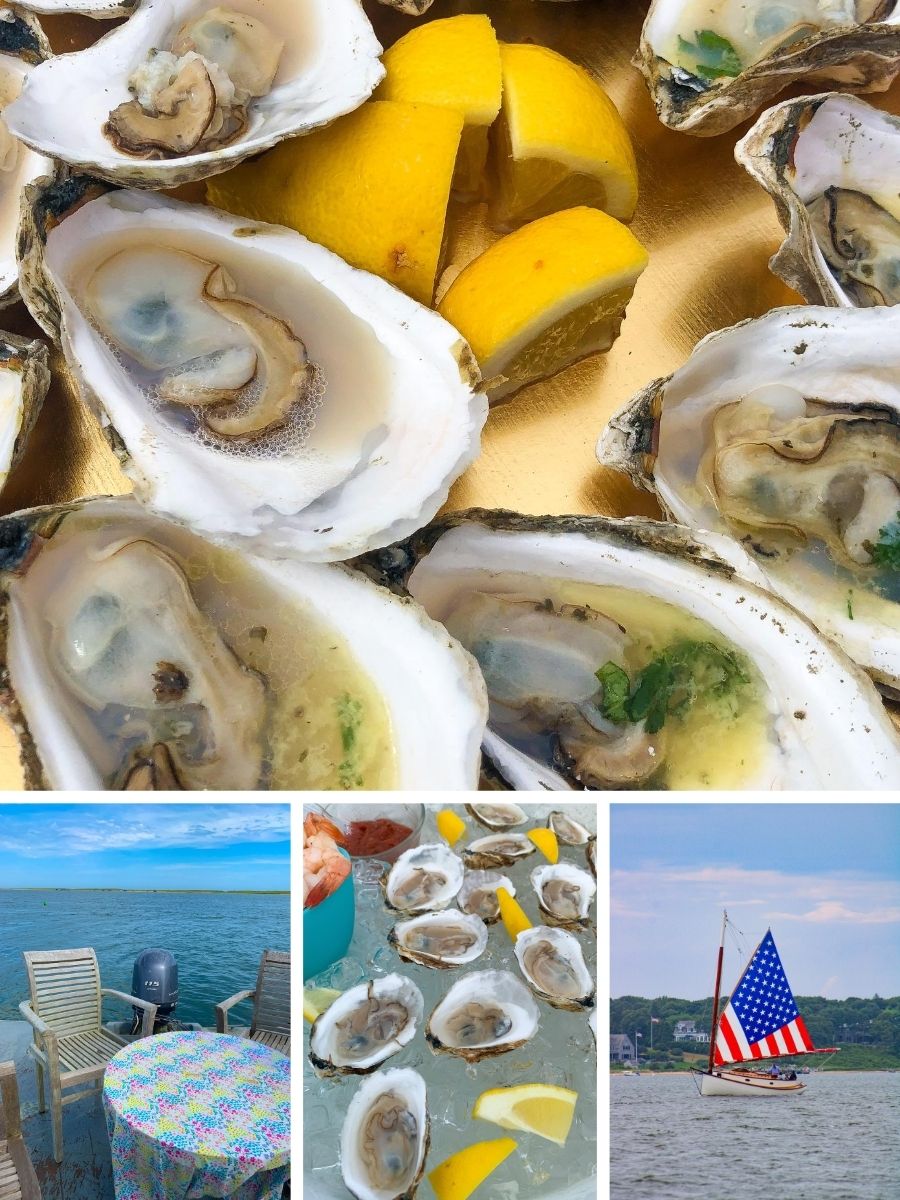 Signature Oyster Farm's Grilled Oyster with Garlic Butter Recipe
12 unopened oysters paced on a grill.

2 tablespoon salted butter soft

A pinch of "by the sea salt" made on MV (has salt, garlic, onion and dried spices)

A small leaf of fresh basil chopped

3 leafs of fresh cilantro chopped

Squeeze of lemon



Mix all the ingredients together.

When the oysters pop open on grill open them and leave the juices add the butter to melt.