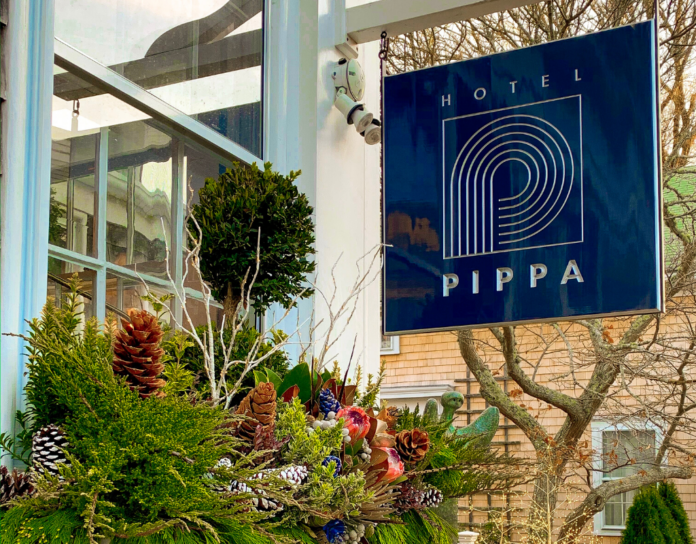 Most coastal resort town hotels need to walk a fine line between nautical kitsch and upscale ambience. Too many whales and seashell knickknacks get old fast; and modern and sleek decor and design can hide the charm of the location. Downtown Nantucket's Hotel Pippa has found the perfect combination of coastal chic and sophisticated charm.
Perfectly situated on the corner of Chestnut and Centre Street, it's central location gives you walkable access to everything you can want in town.  I easily enjoyed my island morning ritual of a cup of coffee and a brisk walk out to Brant Point Light. Other local attractions are a quick ride; like most of the island, most places are a 10-15 minute car ride in either direction. 
The light filled rooms are a master class in minimal aesthetic – the interiors were designed with the help of Giovanna Lucy, who has worked with iconic brands such as Coach and Rolex, both known for their classic elegance.  Featuring deep blues, soft whites and neutrals, the design gives you just enough sense of the shoreline, with the stunning photography of islander Nathan Coe adding bold and beautiful reminders of your location in every room.
A cozy courtyard offers a lovely outdoor seating area; fire pits make it the perfect spot to grab a drink from the hotel bar and sit outside with a friend or a book.  Each morning, guests enjoy a complimentary breakfast in the Cafe V Bar; it includes a lovely assortment of pastries, yogurt, coffee and teas. Just the right note to start your day on the island. 
The hotel does not allow children which can be a make or break for some. But it's one of the few properties that is open year round; as someone who loves to head to the island in the quieter months, it's such a treat to have such a lovely off-season option.  
It's also nice to note, the hotel is owned by locals who have lived on the island for 20 years and put a considerable amount of money into renovating the property. It's not an easy fete to keep the historic charm of a building while giving guests the modern comforts they expect; but Hotel Pippa has done it beautifully.  I loved the contrast of the old style door handles that opened to the sleek and marble bathroom. It's always the little things that make a lasting impression; and the Hotel Pippa has left a lovely one.