welcome to boothbay harbor
One of the most unique things about Spruce Point Inn, an historic resort located in Boothbay Harbor, ME, is how present you feel at a property so deeply connected to the past. Originally opened back in 1892, the long history of the property highlights the emergence and evolution of Maine as a getaway for summer weary Boston and New York City travelers.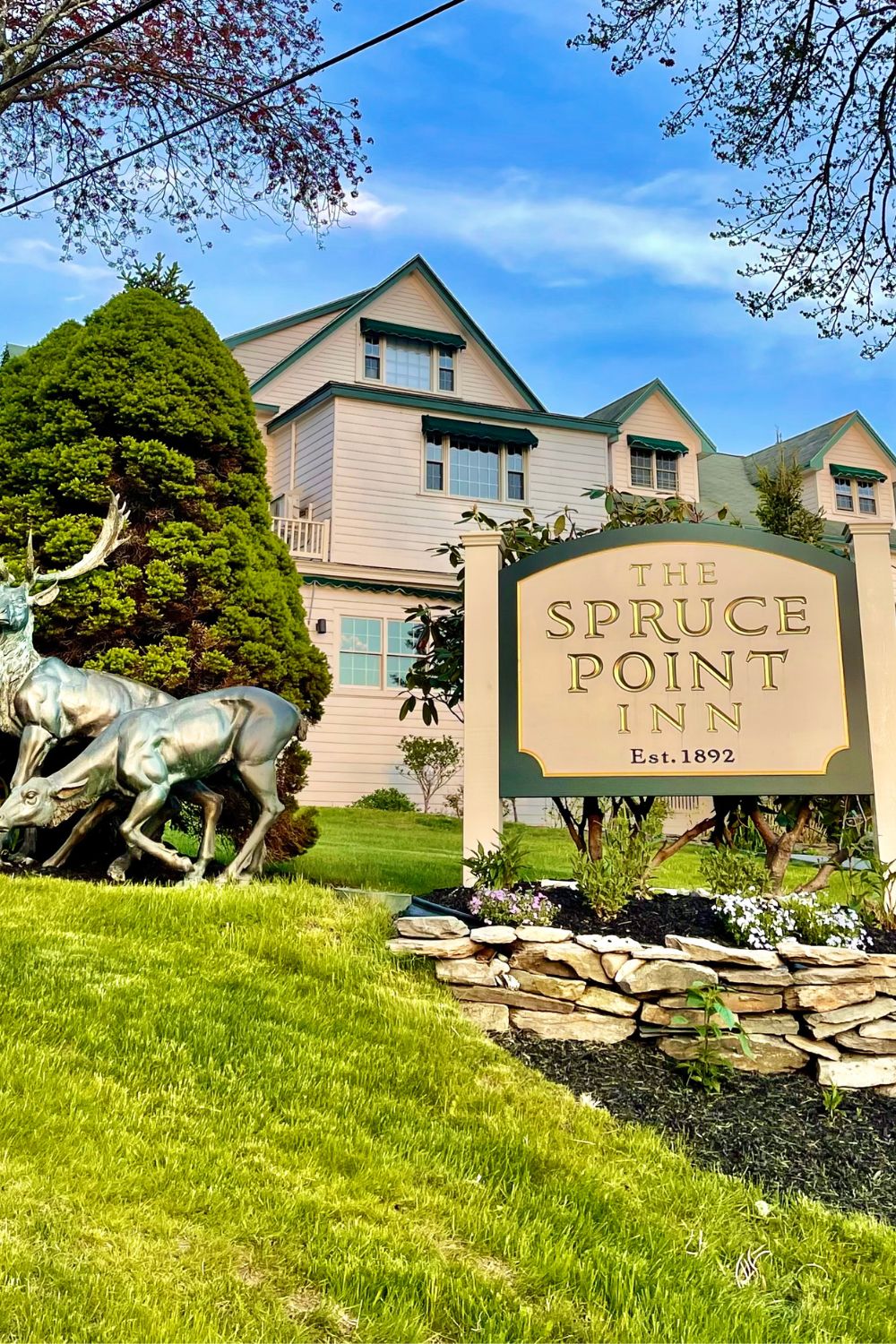 Located about an hour north of Portland, the resort makes a striking entrance as you cruise past the gorgeous blue waters and drive up the hill to the main building. The minute you pull in you are transported to a timeless and elegant setting that immediately beckons you to leave your cares in the car.
The main house, with it's spruce tree cutout shutters, matching Adirondack chairs and eye catching flower pots is a welcome site after a long drive, and walking into the airy lobby offers a first glimpse of the classic coastal chic that is featured throughout the resort. As you check in, you'll notice one of the hotel's first signs, now hanging on the wall adjacent to the registration desk. It's such a fun reminder of Spruce Point's history. Just off the lobby is a cozy den with a fireplace and all the nautical touches you'd expect from an oceanfront inn.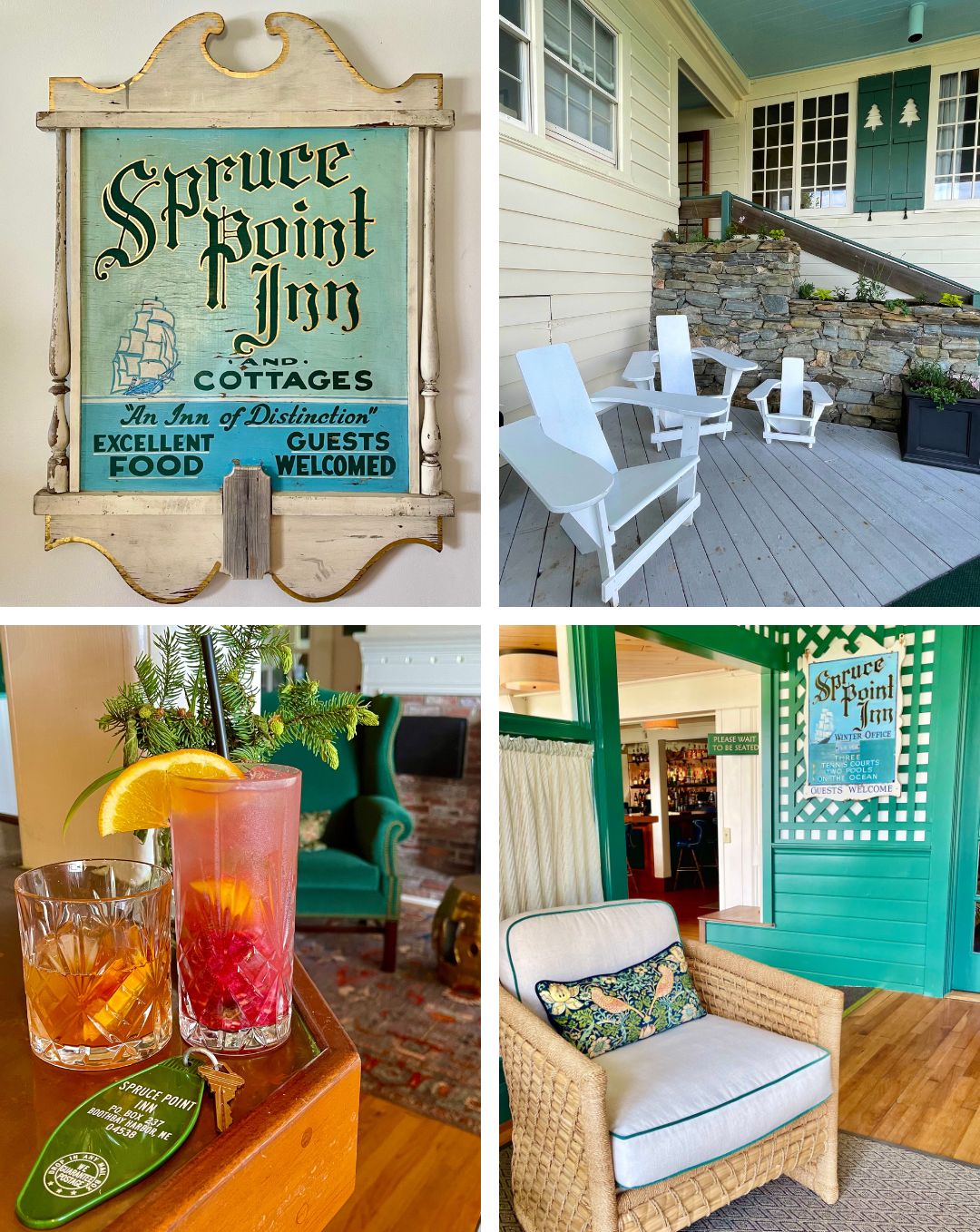 We were treated to the property's Starboard Cottage that had gorgeous water views across to Squirrel Island and Burnt Island Lighthouse. The property is one of the original, free-standing cottages that were converted from private summer homes to guesthouses for the Inn. This two-story cottage has four bedrooms, three baths, and a spacious eat-in kitchen. The decor is all natural and painted pine walls and hardwood floors and the entire house is furnished with classic and authentic Maine antiques and cottage style furniture. There was also a classic brick fireplace and a wrap around porch and deck to take in all of the views. It would be the perfect spot to bring your extended family for a memorable multi-generational vacation.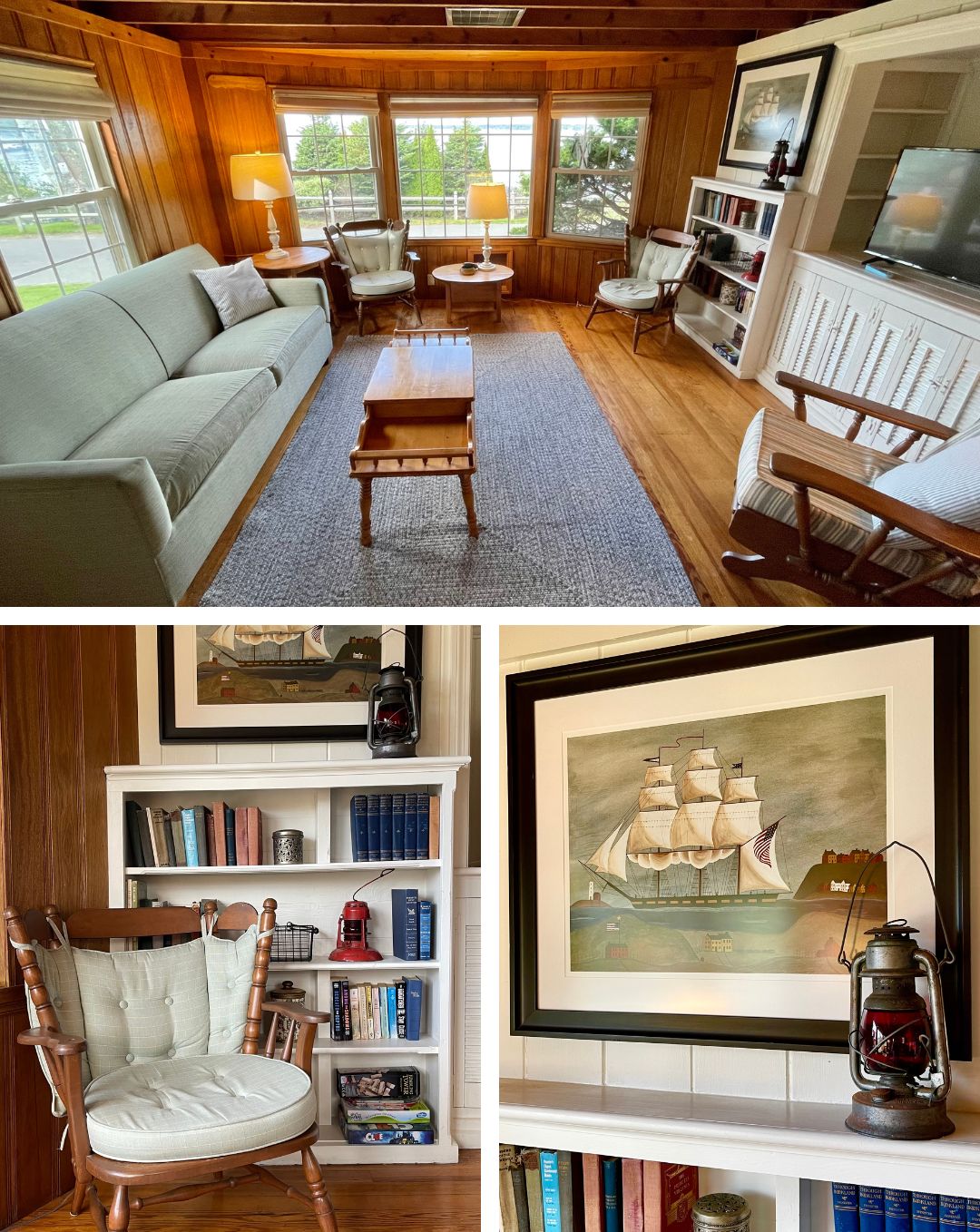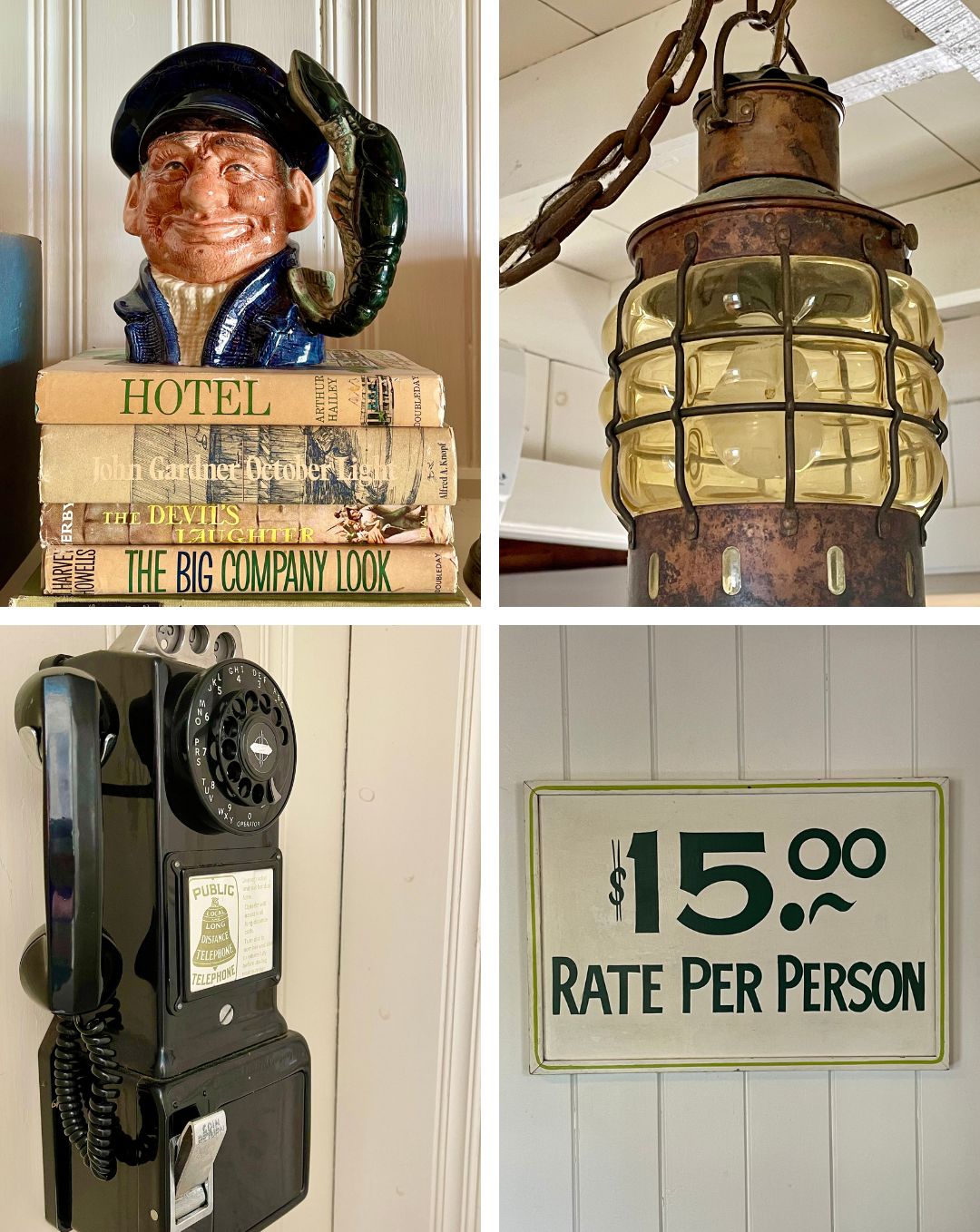 Looking for a family-friendly activities? The resort offers everything you need to create unforgettable oceanside memories. They've got it all – two outdoor pools, two tennis courts, a private boat launch, kayaks, paddleboards, bikes, croquet, shuffleboard, and even a game room with classic arcade games. Plus, indulge in some self-care at The Spa at Spruce Point Inn, or work up a sweat in our top-notch fitness center featuring Peloton® Bikes.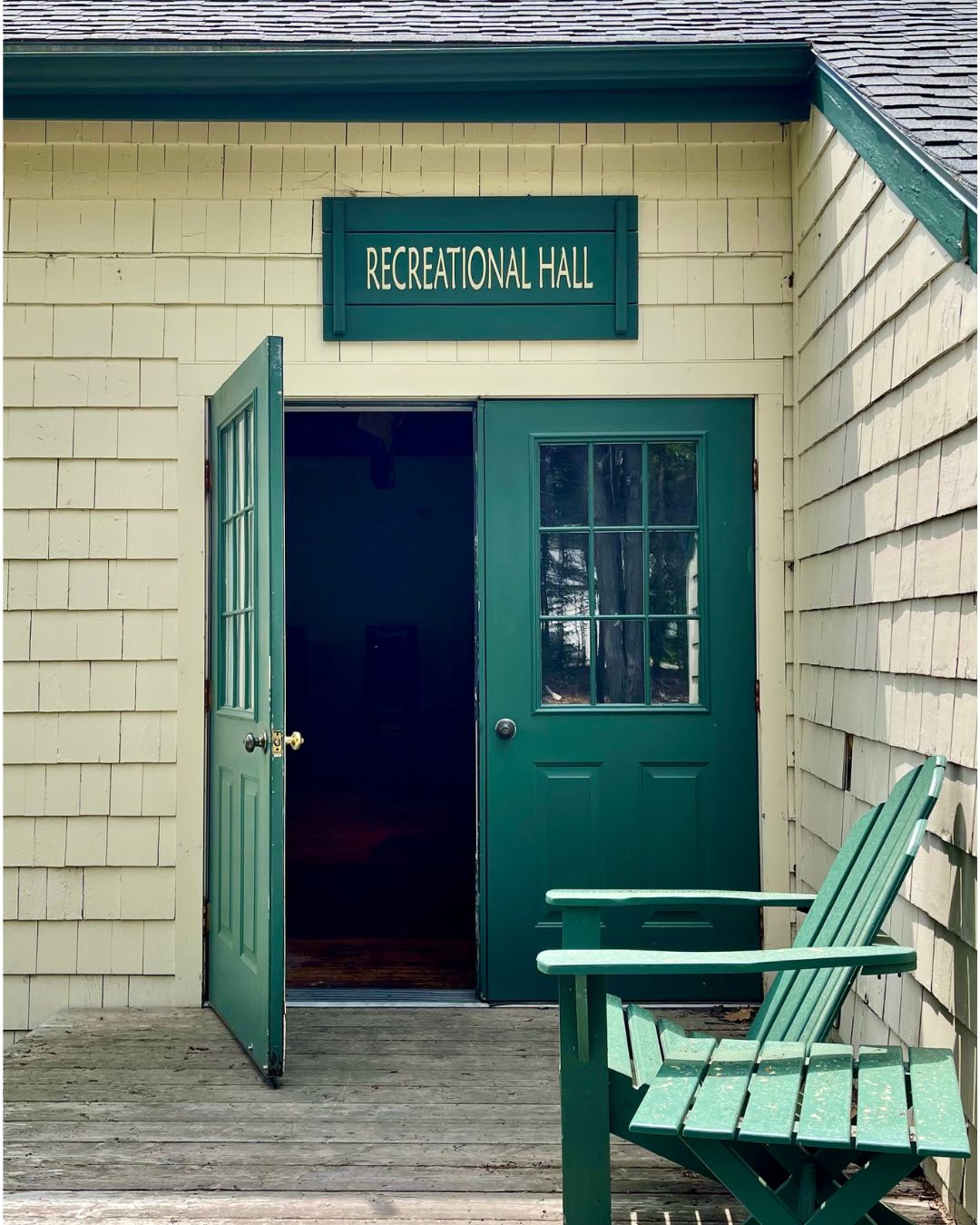 The resort's Bright Line is a complimentary boat service for hotel and restaurant guests.  You can either enjoy a water taxi into town, or they offer private boat tours of Squirrel Island and Burnt Island Lighthouse that are visible from shore.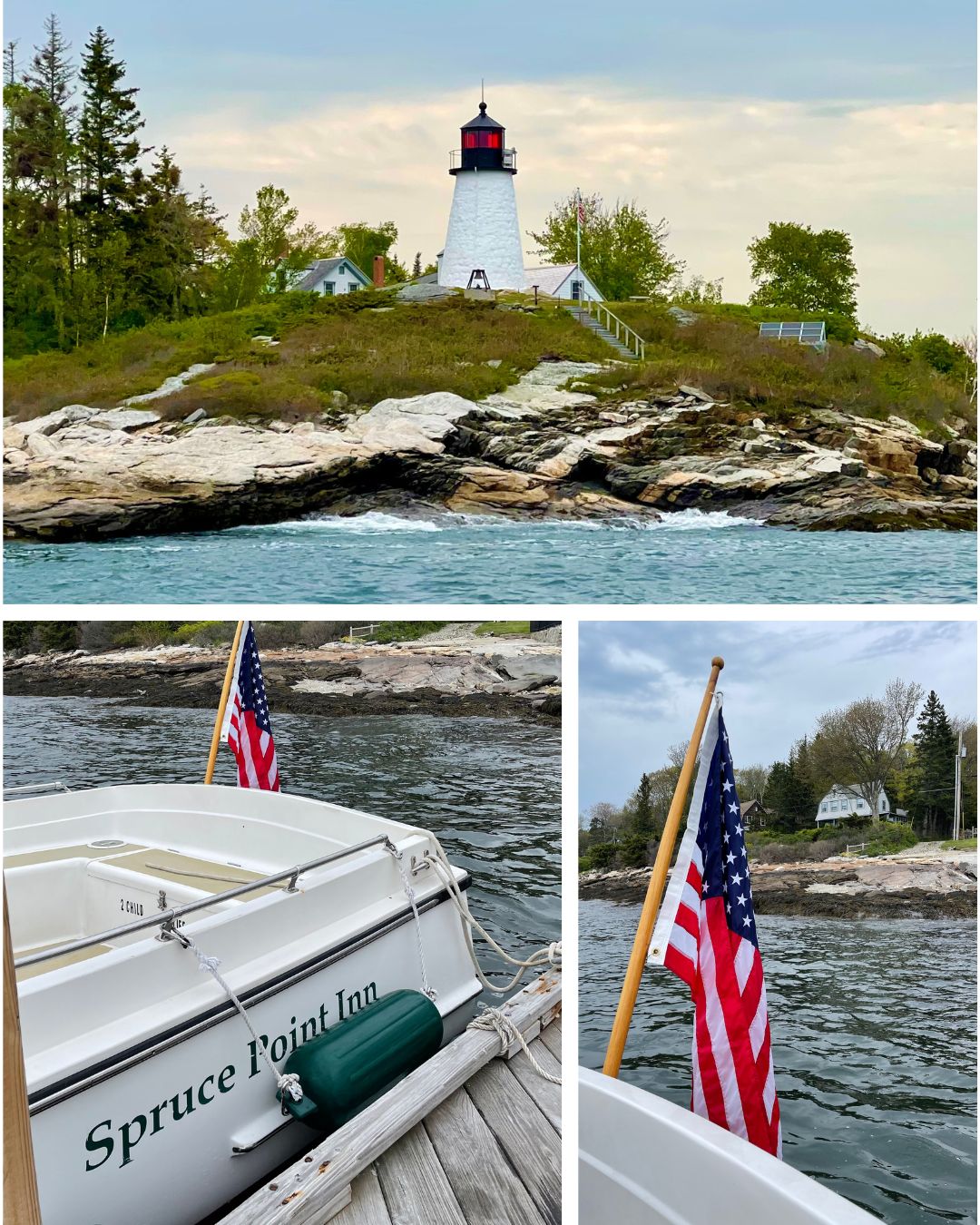 Once we checked in we headed straight to the resort's Salty Stag for quick drink at the bar. We made ourselves at home over the next few days at the wonderfully appointed sun drenched restaurant that had water views at select tables.
The first night we enjoyed a gorgeous dinner of local lobster.  The breakfasts at the Stag are worth getting up early for; classic morning favorites like eggs and bacon (uncommonly delicious) with mimosa and bloody Mary's were the perfect start to our day. Just steps outside is the outdoor Grandview Deck that serves classic sandwiches, salads, fresh seafood and regional dishes. The deck offers panoramic views of the shoreline below and sea breezes in the warm sun.
At the time of our visit, there were the only two eateries open; but there is also the White Clover that offers slightly more fine dining in an elegant and timelessly appointed room.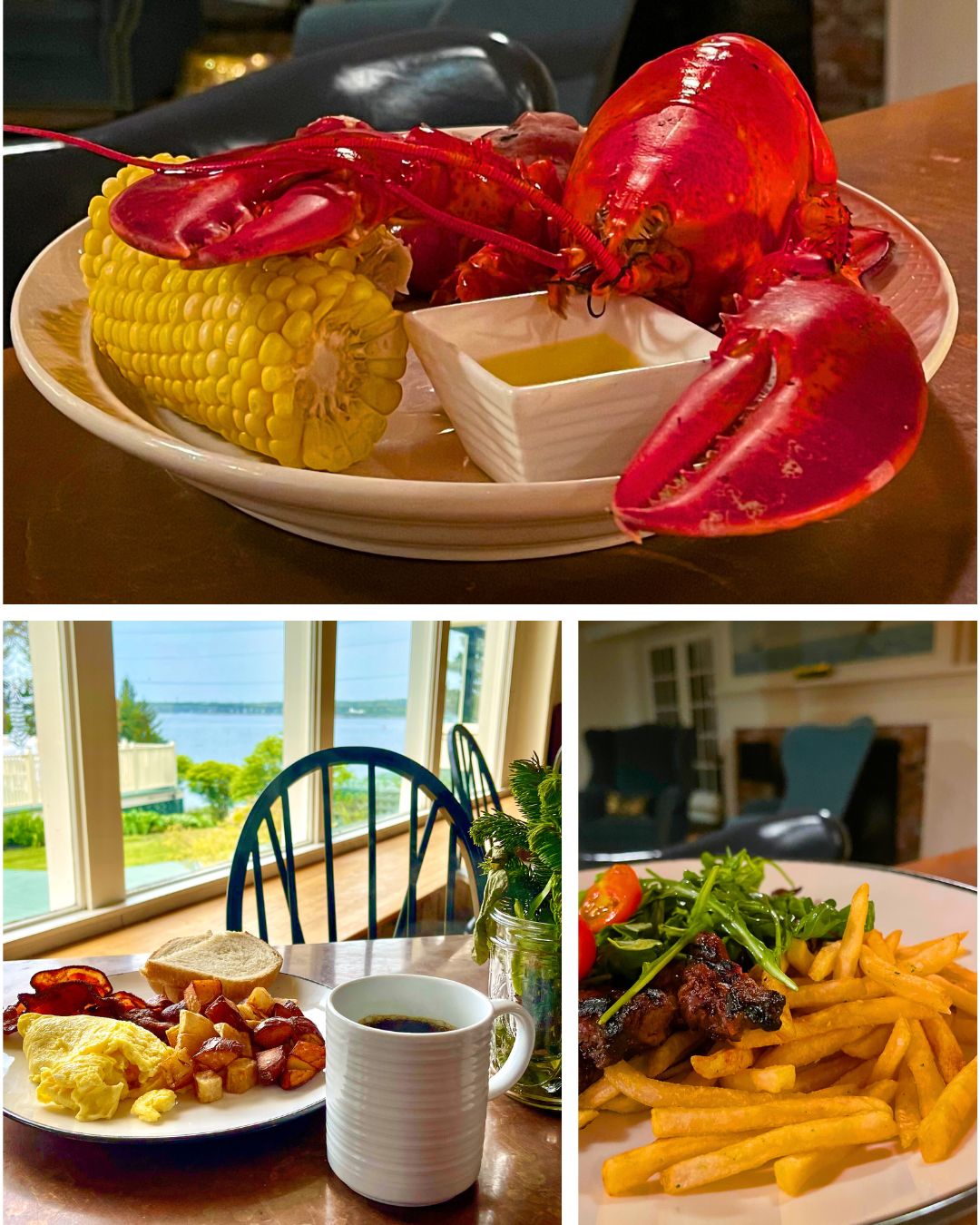 Venturing into the town of Boothbay you'll find a ton of restaurants to choose from. We  enjoyed a great lunch at the Mine Oyster, with it's waterview deck and classic down east seafood menu.  Another great spot to enjoy a drink was the Boathouse – with beautiful panoramic views of the bay from their third floor deck. 
Shannon's Unshelled is a tiny lobster shack located on Boothbay Harbor. Owner Shannon started the summer of 2013 when she realized there weren't enough "quick" lobster rolls nearby. She wanted a dish that reached guests quickly yet found in locally owned restaurants. Eat a whole fresh lobster atop a buttery bun while looking out over the shimmering harbor. The shack also serves hot dogs, lobster salads, and homemade lobster stew.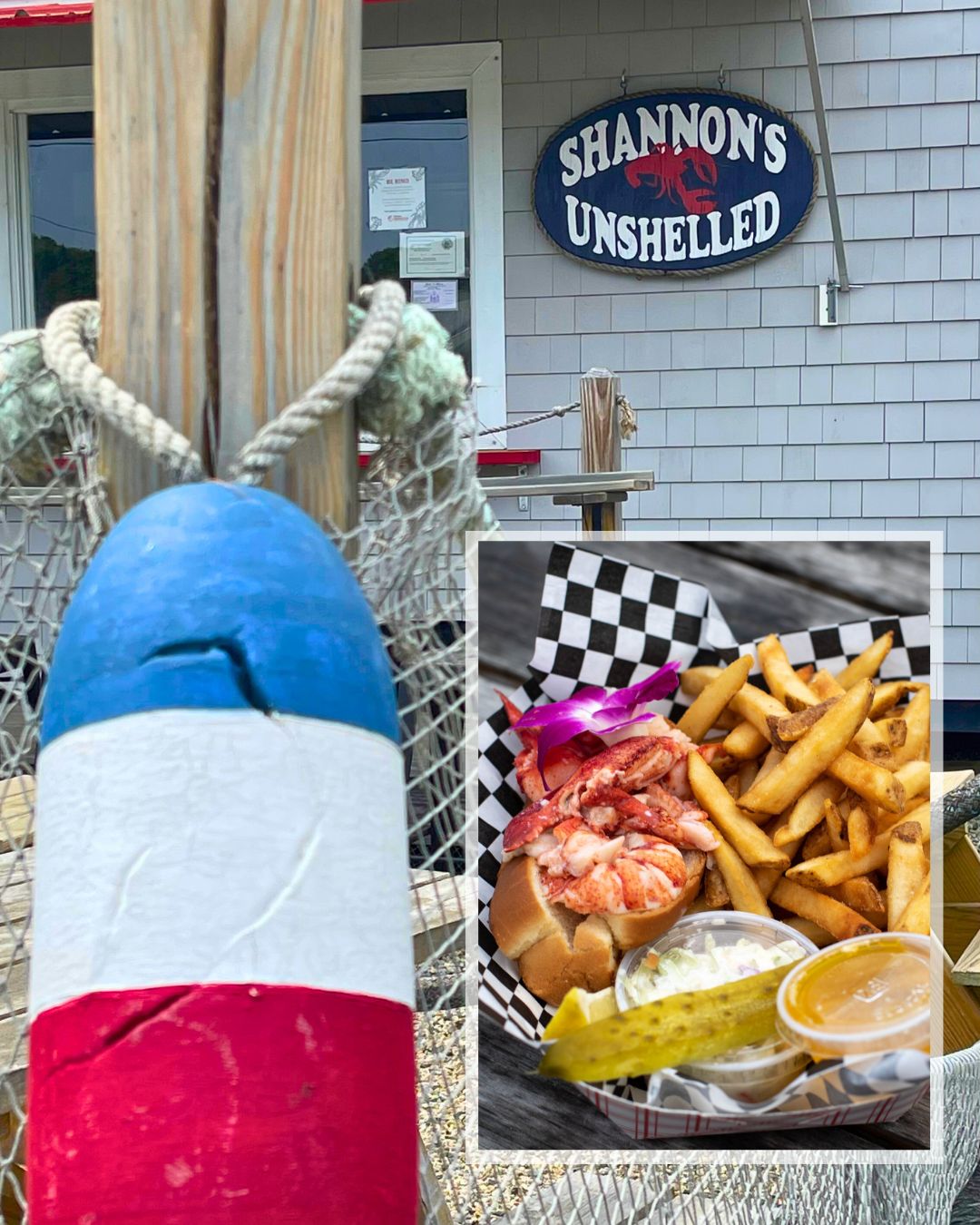 In our search for more lobster rolls, we were pointed to a local favorite located down the road in Southport, called Robinson's Wharf. Overlooking the swing bridge, the large deck looms over the docks where the boats are unloaded with brought right in the the restaurant. We enjoyed Lobster BLTs and hand cut fries (that were absolutely salty and delicious). You can never go wrong with a local favorite!
No summer vacation is complete without ice cream, the the Downeast Ice Cream Factory was a classic parlor complete with dozens of homemade flavors, cones toppings.
the beauty of coastal maine
The town of Boothbay Harbor and Maine coastline is a hidden gem that boasts some of the most awe-inspiring natural views in the world. The picturesque harbor town is a charming blend of stunning coastal landscapes, pristine waters, and lush greenery. Here are just a few reasons why Boothbay Harbor should be at the top of your must-visit list:
The Harbor: Experience breathtaking views of colorful fishing boats, sailboats, and yachts bobbing on the glistening water as the sun rises or sets. The picturesque harbor serves as a central gathering point that's perfect for Instagram-worthy moments.
Coastal Landscapes: You'll be surrounded by rugged cliffs, rocky shores, and scenic coves that feature mesmerizing crashing waves, dramatic outcrops, and ever-changing tides. The combination of captivating coastal landscapes creates a dramatic and awe-inspiring sight.
Islands and Lighthouses: The area's enchanting islands, such as Burnt Island and Damariscove Island, offer unique charm, picturesque backdrops, and endless exploration opportunities. Explore fascinating lighthouses such as Burnt Island Light and Cuckolds Lighthouse for even more of Boothbay Harbor's allure.
Botanical Gardens: Take a tour of the Coastal Maine Botanical Gardens located just outside of Boothbay Harbor for a stunning display of flowers, plants, and themed gardens. The meticulously manicured gardens provide endless tranquility while immersing visitors in natural beauty.
Wildlife and Marine Life: Boothbay Harbor is home to fascinating marine life and wildlife. Visitors can spot seals basking on rocks, seabirds soaring overhead, and if you're lucky, even whales passing by. Explore the area's rich ecosystem for a glimpse into the wonders of the natural world.
Foliage in Fall: When autumn comes, Boothbay Harbor's scenic beauty levels up. The lush greenery explodes into a tapestry of red, orange, and gold, providing breathtaking backdrops for outdoor activities and scenic drives.
With such astounding natural beauty, Boothbay Harbor offers an unforgettable and scenic experience perfect for nature lovers and photography enthusiasts.
hip, haute & coastal cool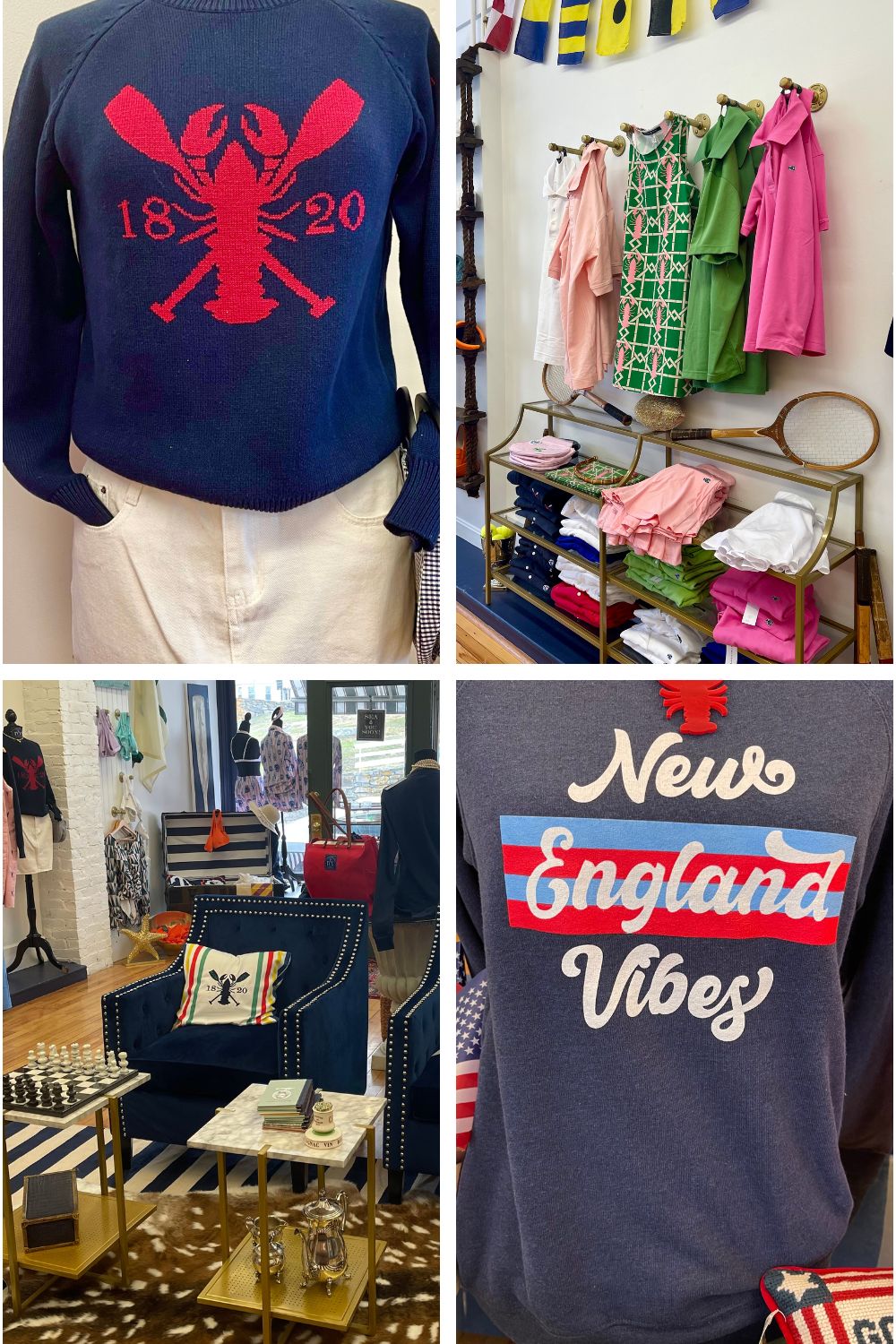 Get ready to discover unique finds and delicious treats while shopping in beautiful Boothbay Harbor. This coastal town offers a delightful shopping experience, with its charming boutiques, art galleries, and specialty stores. Some highlights include:
Local Art and Crafts: Be sure to explore Boothbay Harbor's numerous art galleries and shops to find one-of-a-kind paintings, sculptures, ceramics, jewelry, and other handmade crafts that reflect the beauty and spirit of the area, all created by local artists and artisans.
Nautical and Coastal-themed Shops: You'll be inspired by the maritime heritage of Boothbay Harbor, so embrace the ocean life by browsing in stores that specialize in nautical and coastal-themed items. You'll find everything from anchor-themed home decor to seashell jewelry and boat-inspired accessories, perfect for adding a touch of the ocean to your life.
Gift Shops and Souvenirs: Don't leave Boothbay Harbor without a memento! You'll have no shortage of gift shops offering an array of souvenirs and knickknacks, whether it's locally made jams, preserves, maple syrup, or trinkets like postcards and t-shirts.
Antiques and Collectibles: Antique enthusiasts will find pure joy in exploring the various antique shops scattered throughout Boothbay Harbor. You'll discover unique vintage pieces with a sense of history, including furniture, jewelry, books, and other collectibles.
Specialty Food Shops: Indulge in the local flavors of Boothbay Harbor with specialty food shops that offer Maine-made products like lobster bisque, gourmet chocolates, locally roasted coffee, artisanal cheeses, and freshly baked goods. These treats make for wonderful gifts or a delicious snack to enjoy during your visit or take home.
Clothing and Boutique Shops: Whether you're seeking fashionable apparel, accessories, or footwear, Boothbay Harbor's clothing boutiques and stores have got you covered. Browse through the latest trends or find coastal-inspired fashion that suits the laid-back vibe of the area.
Farmers' Market: On select days, check out the Boothbay Farmers' Market for fresh produce, homemade baked goods, locally sourced meats, and other delightful treats. Get your taste buds ready for some local goodness!