The Nantucket Daffodil Festival has been on my springtime bucket list for years. Hosted by the Nantucket Chamber of Commerce the last weekend of every April, it is a celebration of spring and the arrival of the seasonal crop of the island's daffodil blooms. From early-April to mid-May, over three million daffodils of every color, shape and size bloom on Nantucket Island and the story of the festival is as charming as the island itself.
Originated in 1974 by the late Jean MacAusland, a summer resident of Nantucket and former publisher of Gourmet Magazine, Jean persuaded the Nantucket Garden Club to invite the American Daffodil Society to sponsor a daffodil show on the island. MacAusland and the Garden Club set a goal to plant more than one million daffodil bulbs. Their commitment would engage the entire town and 44 years later, the event has become a three-day affair, complete with parades, picnics and floral themed parties. The colorful backdrop is an instagrammer's dream, so it has only grown in popularity in recent years. Here are some highlights from a truly magical, and unseasonably hot and sunny day.
• NANTUCKET DAFFODIL FESTIVAL •
When the ferry starts to slow down as it's making it's way into the harbor, Brant Point Light can finally be seen and she is dressed and ready for the weekend.
• NANTUCKET DAFFODIL FESTIVAL •
Yellow and Green is everywhere you look downtown. We got there early enough to get some snapshots of the beautifully decorated planters in the center of Main Street. It is a feast for the eyes. And with the unexpected bright blue sunny skies, the town looked absolutely magical.
• NANTUCKET DAFFODIL FESTIVAL •
walk tall and carry a yellow hat
While yellow is one color you will never see in my closet, I found a nice green sweater and daffodil accessories that I thought would help me festively fit it. Then I got to the island and saw how everyone else was dressed and I quickly became yellow and green with envy. These people came to play. From lavish hats, to floral pants, to brightly colored blazers, there is such a joy in watching how everyone really gets into the spirit of the day.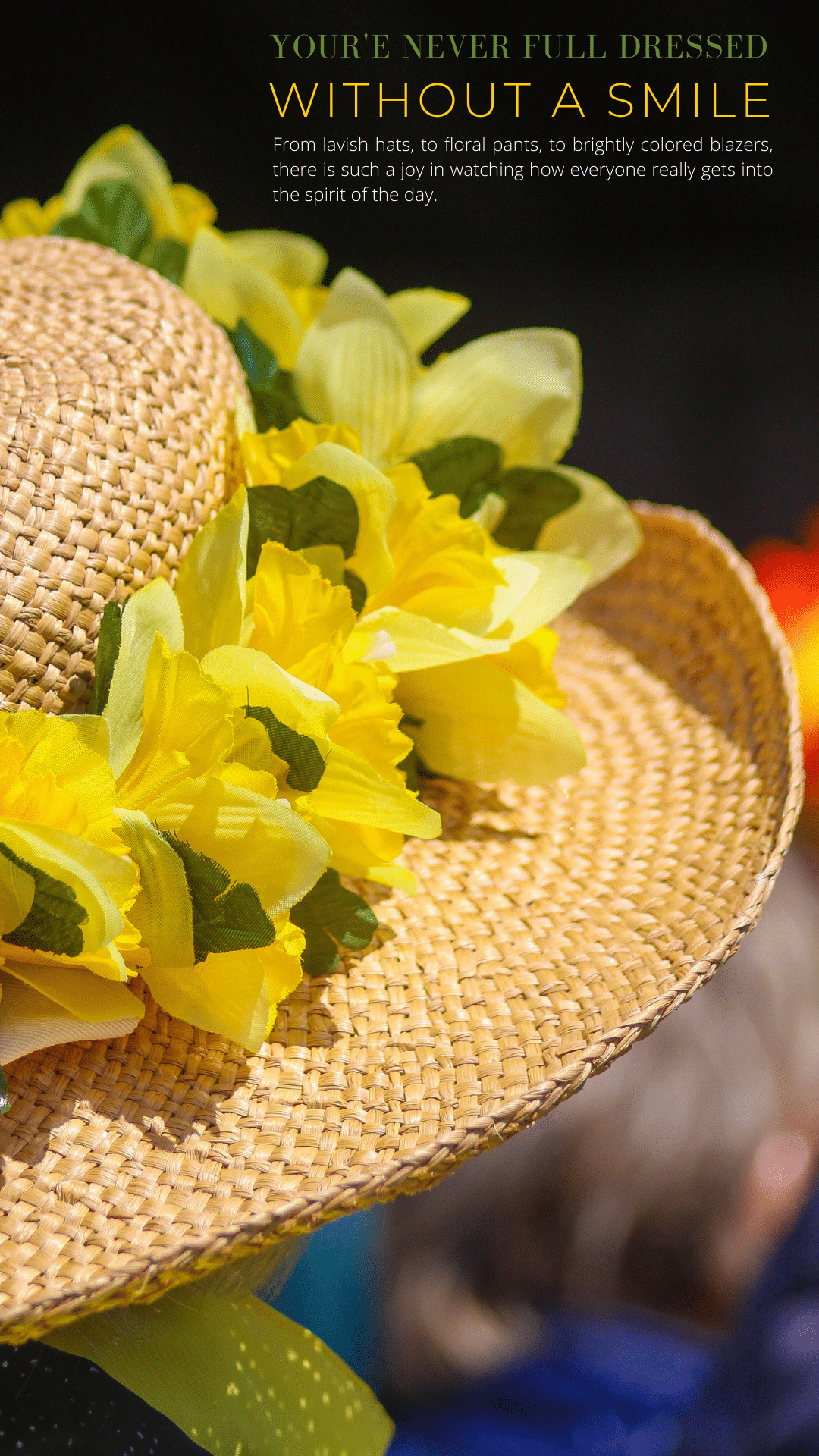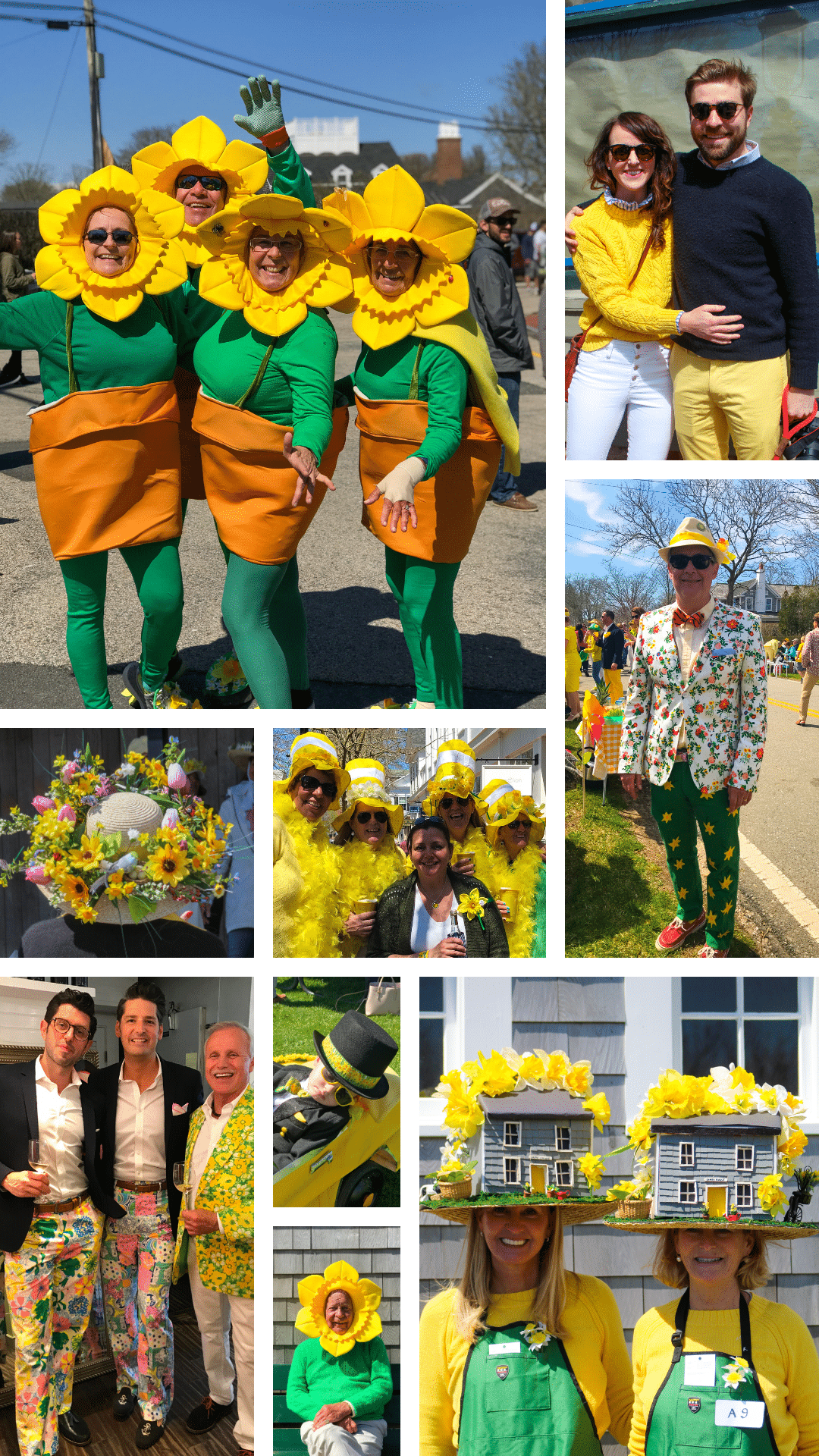 • NANTUCKET DAFFODIL FESTIVAL •
brant point is ready for her closeup
A good tip would be to sneak off to Brant Point Lighthouse to get all the desired photos since everyone is busy downtown getting ready for the Antique Car Parade. We had the Point to ourselves which gave us some amazing shots with no rush or hassle.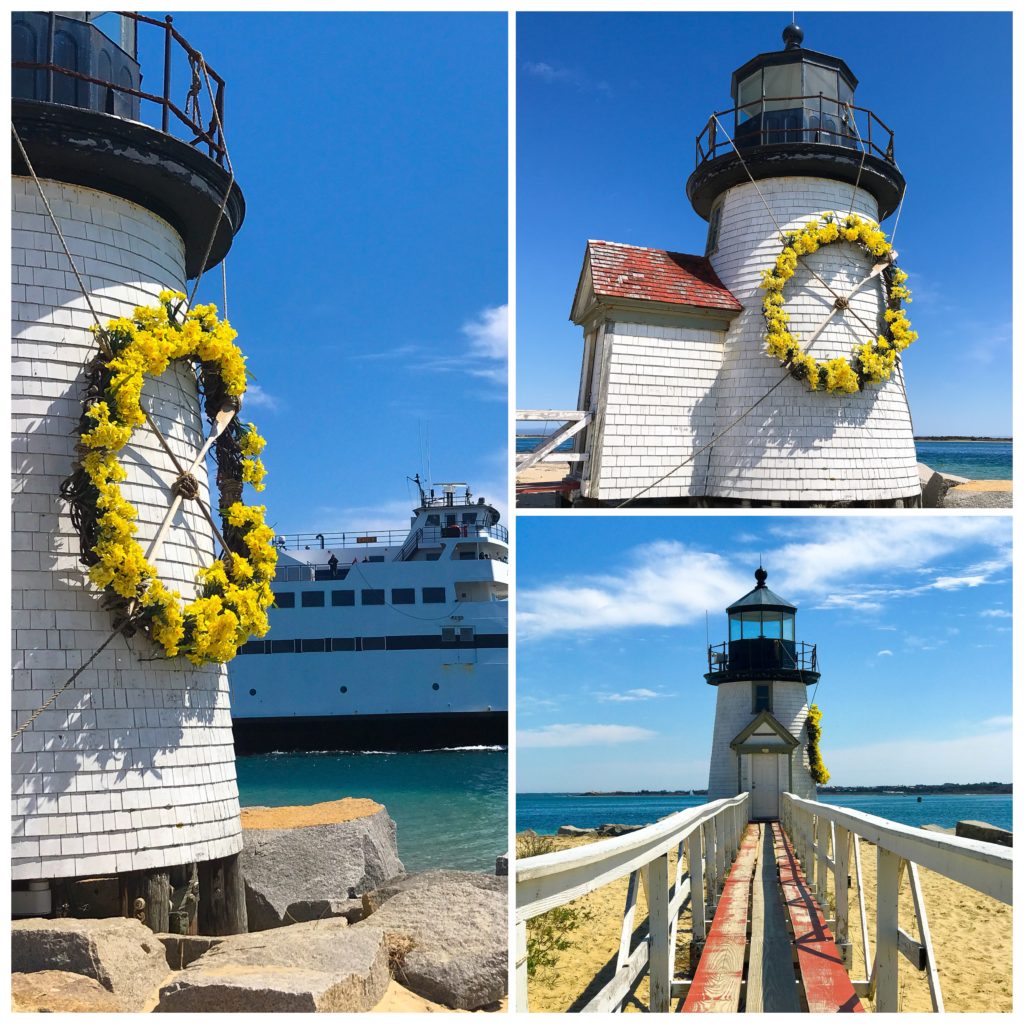 • NANTUCKET DAFFODIL FESTIVAL •
pregaming at children's beach
We took a quick walk around and wound up down by Children's Beach where they held a family picnic and wagon parade. These kids were no amateurs at the dress up game and some of the best theme outfits of the day were on the littlest festival goers.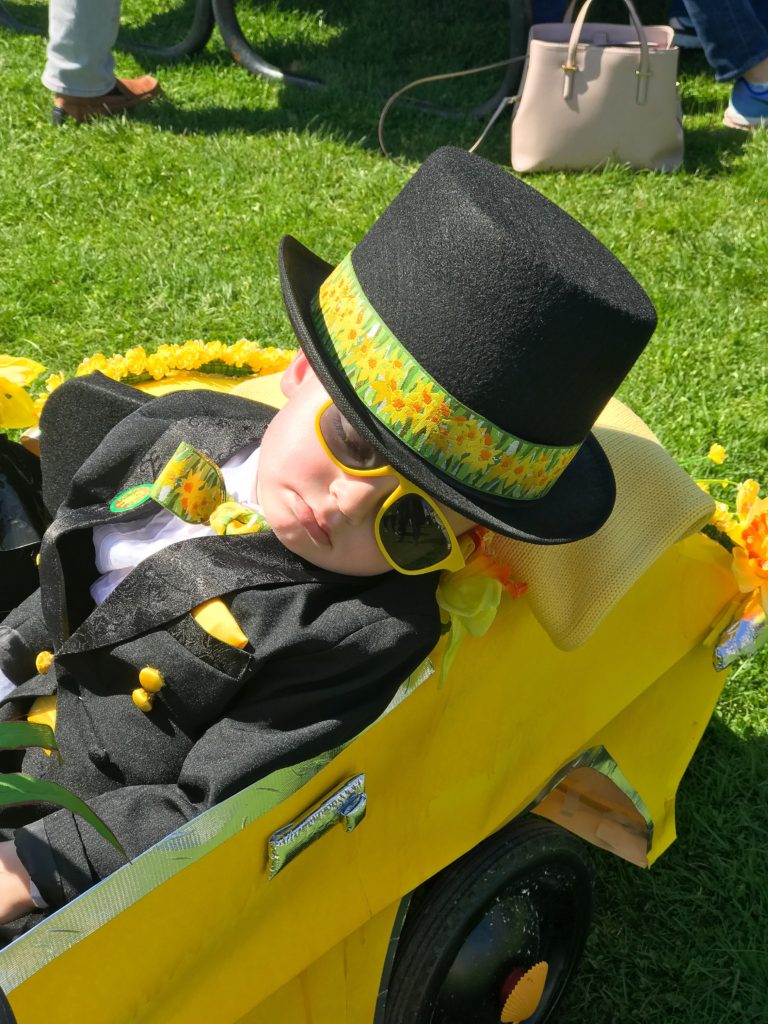 • NANTUCKET DAFFODIL FESTIVAL •
The true stars of the day were the brightly decorated and themed antique cars that start lining up on the cobblestones of Main Street. The owners of the cars really go all out and the creativity behind some of the themes is really amazing. I was glad to have gotten into town as early as I did. We were able to browse all of the cars and got ourselves a nice vantage point to watch the parade when it started at Noon. The cars drove around a few times and then head out to Sconset for the picnic.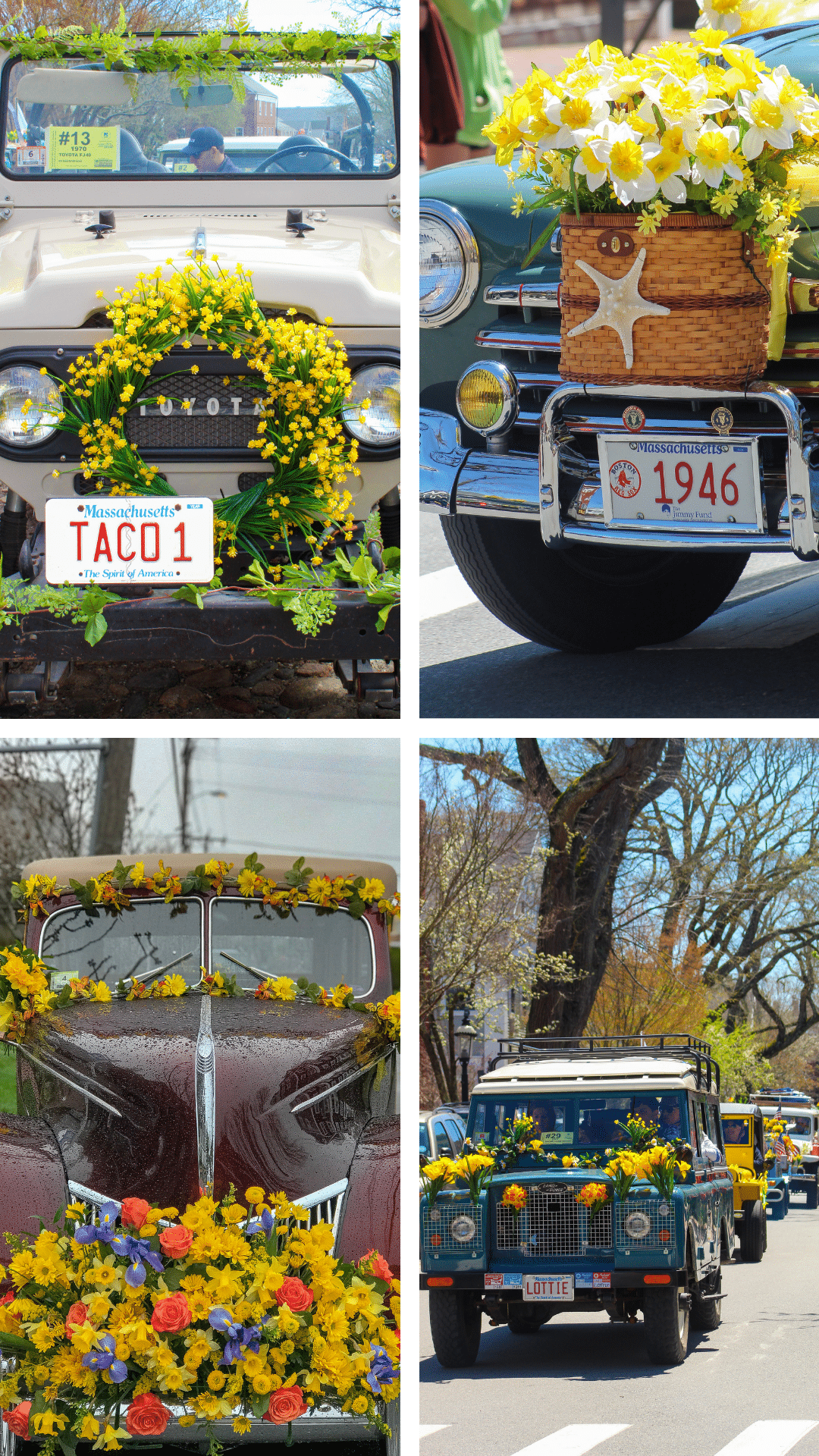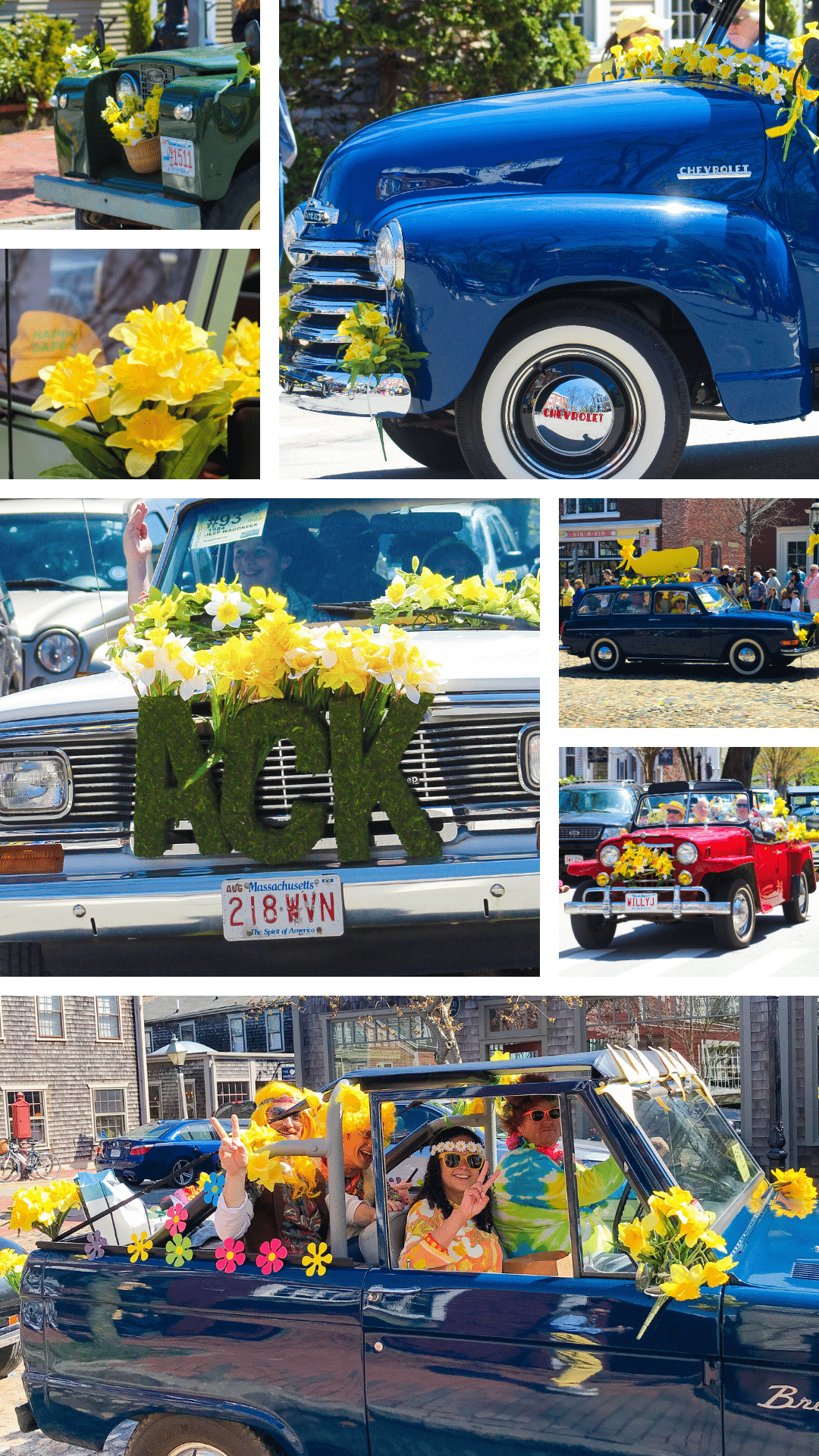 • NANTUCKET DAFFODIL FESTIVAL •
not your grandma's tailgate
The annual tailgate immediately follows the parade and is by far the most amazing and unique part of the Festival. Starting at 1:00 pm, the entire Main Street in Sconset becomes one big giant sea of yellow and green picnics. To call it a picnic is an understatement – seafood towers, BBQ pits, wine & champagne, desserts; it is an unbelievable display of creativity. Friends, families and new acquaintances spend the afternoon eating, drinking and soaking up the atmosphere.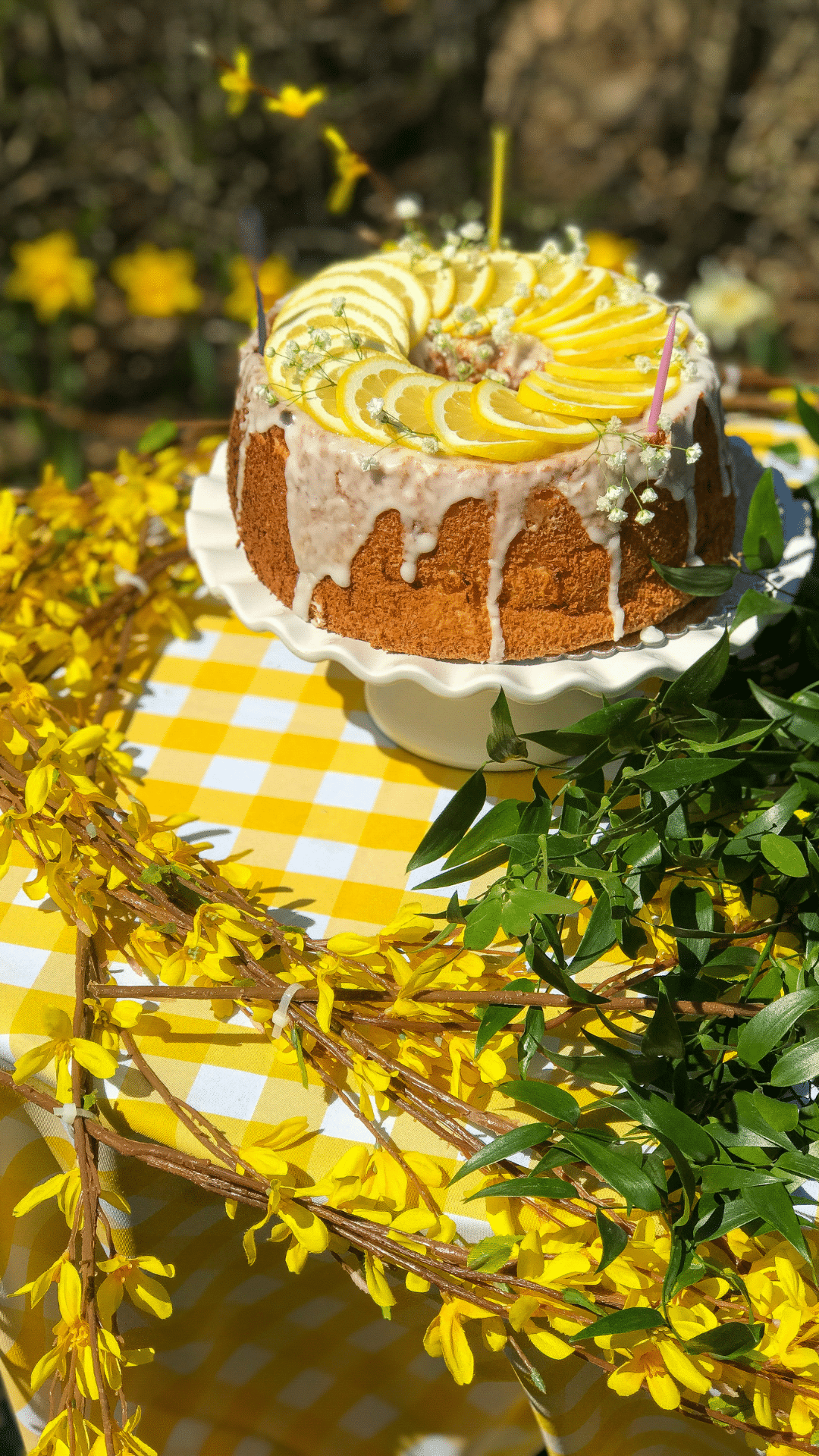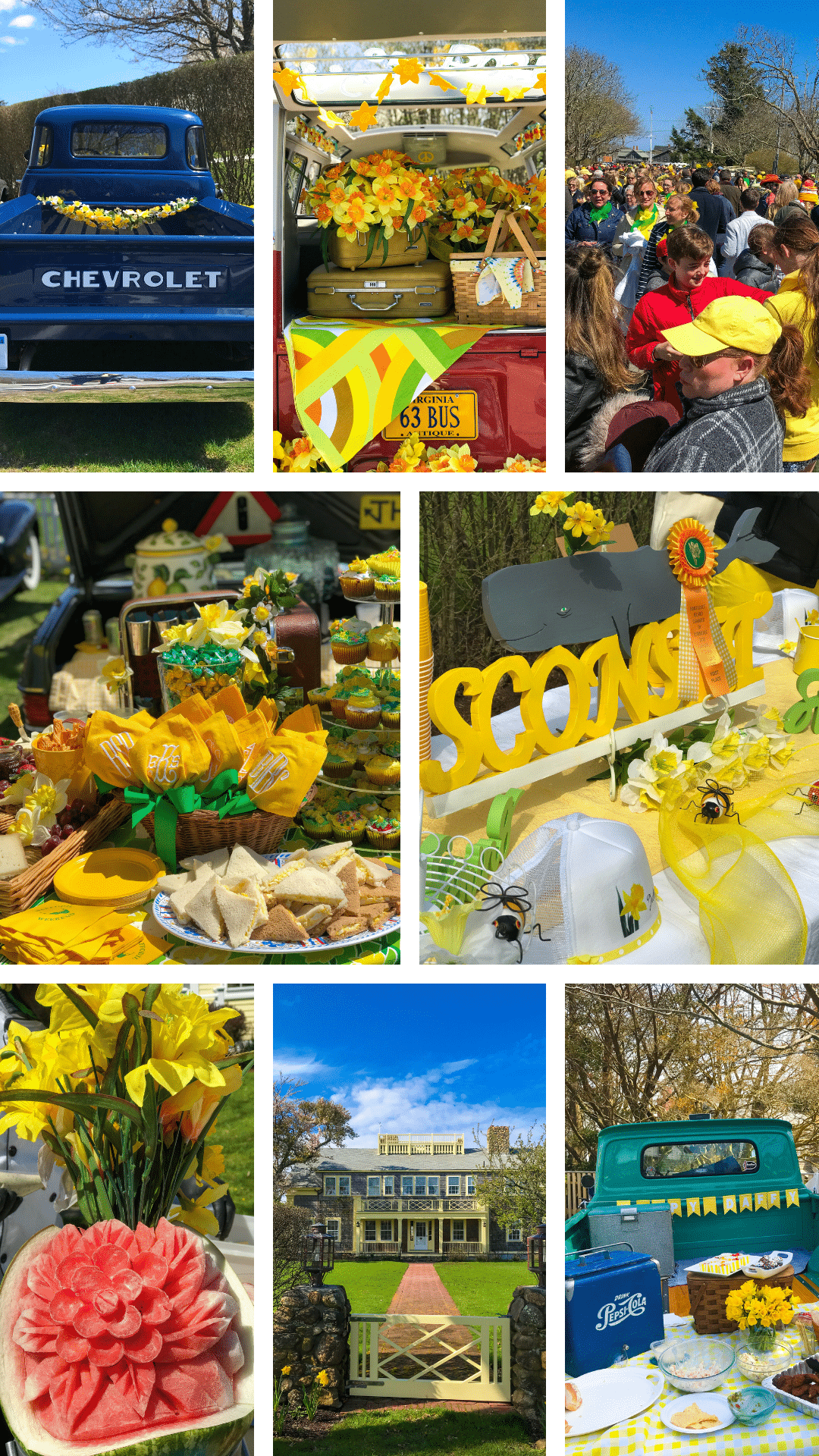 • NANTUCKET DAFFODIL FESTIVAL •
The day wouldn't be complete without a quick stop at the famed Sankaty Lighthouse. This time of year, the grounds are covered in hundreds of daffodils and it is a must for the perfect photo op.  We were lucky enough to take a cab from town and our driver brought us here first before the tailgate. But it is an easy walk to and from the picnic, just plan accordingly as it's 1.5 miles each way.
Our tour guiding cabby was nice enough to take a quick stop along the bluffs near Sankaty and it was a breathtaking panoramic view of the Atlantic Ocean. There are so many reasons to love this island but nothing beats soaking in the seascape from this tiny little island 30 miles out.
• NANTUCKET DAFFY FESTIVAL •
Stores and local businesses are no exception when it comes to Island Spirit and there is a contest among the merchants for best Daffy windows. We didn't get to see a lot of them but the ones we did get a chance to stop in where so much fun. One of our favorites is our new friend Susan and her store ACK 4170 located on 1A Old North Wharf (Easy Street).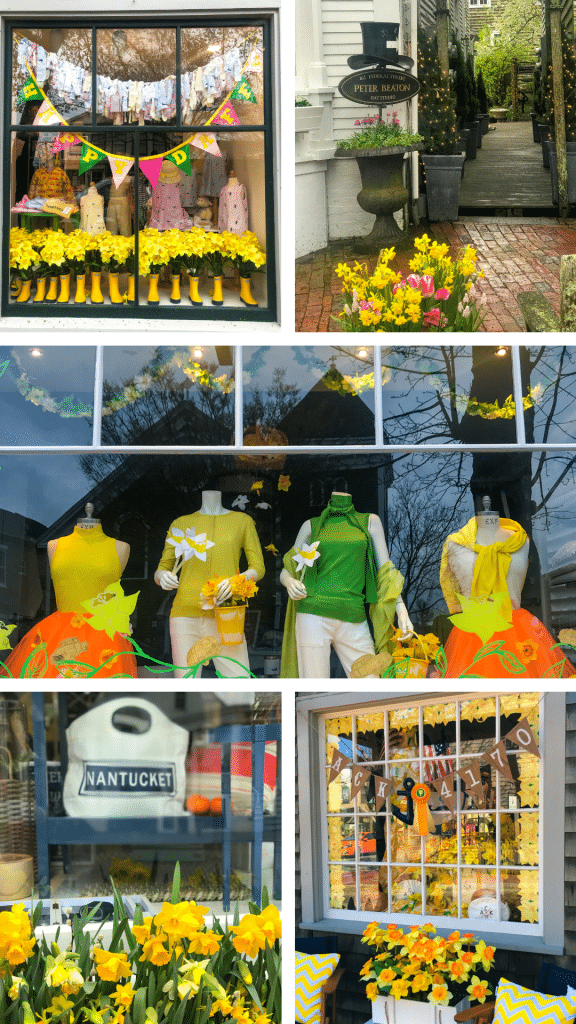 • NANTUCKET DAFFY FESTIVAL •
Make it a Weekend
We were only staying for one day but Sunday does offer some other events such as a Daffy Dog Parade, a beautiful and easy 5K run, various walking tours, a hike, and for those true floral enthusiasts, there is a Community Daffodil Flower Show at Bartlett's Farm.
Planning Ahead for Next Year
So if I had to Monday Morning quarterback my trip, there are a few things that I would definitely recommend doing just a little differently next year.
Dress in layers
The old Mark Twain quote that loosely translated suggests that if you want to don't like the weather in New England, wait a minute. The day turned out to be a unseasonably hot one, so my morning choice of a nice comfy sweater and jeans got old quick. There's no real way to predict how the weather will be, so I would just suggest you pack layers in a way that is easy to carry around for the day.  
Take Time to Enjoy the View
I wish I had taken the time to really enjoy the windows of the shops all over downtown. Since it was my first festival I was anxious to get everything on my checklist covered. Sometimes the New York City girl in me comes through. There is no rushing around during this event. Everyone is on Island Time. There was plenty of time to do it all.
In the rush to get up to Sconset for the tailgate, we grabbed a few quick things at Stop and Shop to eat at the picnic and called a cab. In hindsight I wish i had taken a few extra minutes to get something from a local store or waited til we got to Sconset Market . We did, however, wind up with the most awesome cab driver named Anthony who took us on a few quick tourist stops; first to the bluffs overlooking the Atlantic, and then Sankaty Light.  While that was an amazing experience, we definitely missed the cavalcade of cars as they drove and set up their over-the-top picnics.
While I had once considered doing this mid spring tek a once in a lifetime trip, the Nantucket Daffodil Festival will now be an annual weekend trip for me.  There is magic in every corner of this island and it stays with you long after the ferry has taken you back to reality.