The drive to Lobster Landing in Clinton, CT is the kind that will make you doubt your GPS' voice instruction as you turn left then right then left again. Nestled at the end of a residential waterfront street, the 100-year-old shack sits directly on pilings over an inlet of Long Island Sound.  Any closer to the water and you'd be swimming in it.
At first glance, it's not easy to see what causes customers from all over New England to make the trek to this CT Shoreline institution.  The elements have taken its toll on the facade (the structure has survived two hurricanes), the "O" in Lobster is askew (when owner Enea Bacci tried to fix it, his wife Cathie told him to leave it that way; she felt it added more charm to the weather-worn sign).  But it is no secret that the best places to eat are usually not the picture postcard types. And on that note, Lobster Landing lives up to that adage.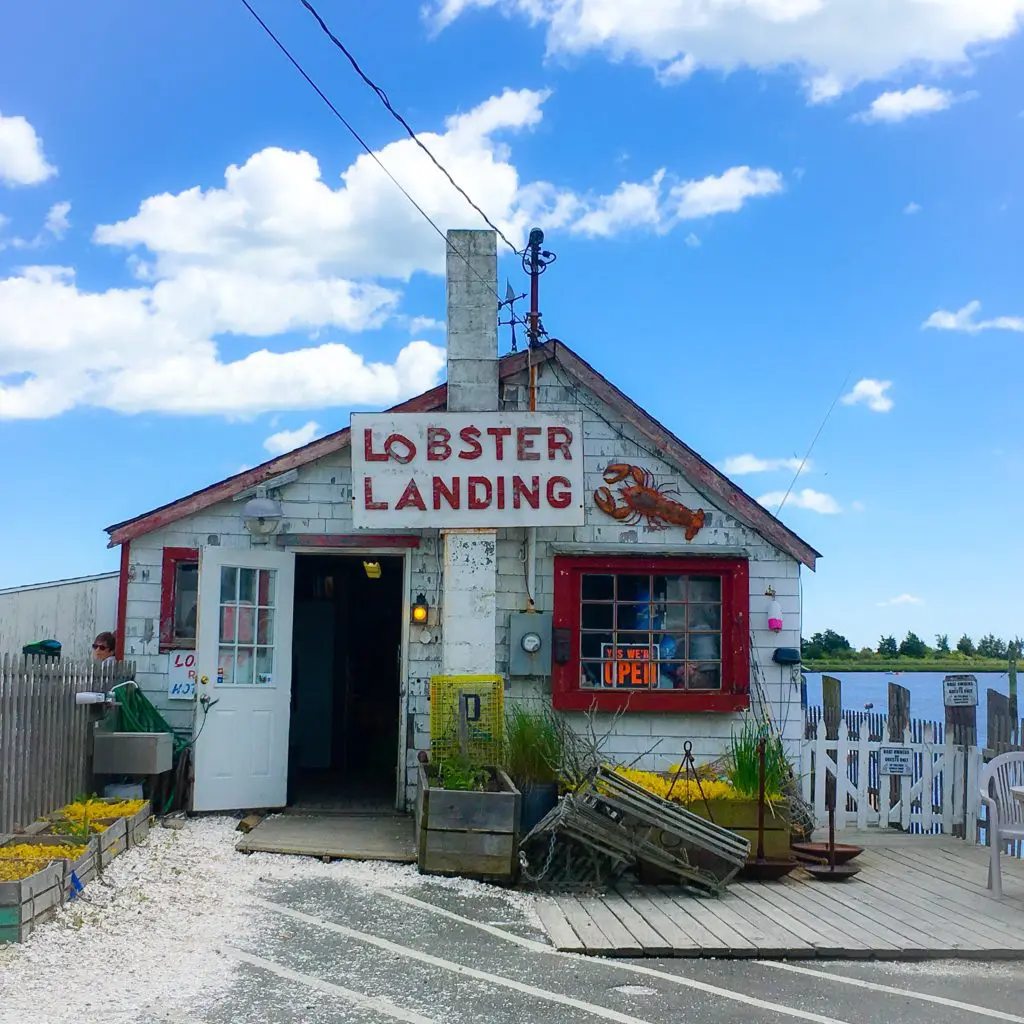 The dining area is in an adjacent counter stand just to the left of the main store. Customers line up and order their lobsters rolls and choice of chips and drinks (they also have Sausage Grinders and Hot Dogs for the non-sea foodies), then take their seat in the casual and unpretentious dining area and wait to be served by one of the young & friendly wait staff.  You can either sit under a tent covered deck or opt for sunny skies in the crushed clamshell picnic area. Both overlook a charming little marina with picturesque views that, quite frankly, are very rare to the public along the shoreline. Just the views alone are worth the trip.
The first thing you will notice when the plate is placed at your table is the size. There is nothing fancy or dainty about the sub roll wrapped in aluminum. The owners searched for two years to find a hearty bread that would stay soggy free when it was served.  The roll is lightly grilled and is filled end to end with ¼ pound of warm lobster.  Each serving is weighed and cooked in its own steam bag and contains hand-picked knuckle, claw and tail meat.   This is a classic Connecticut Roll, where the lobster flavor shines solo with just a small ladle of drizzled double-boiled butter and a squeeze of lemon.  Every bite is one to cherish and at $18, it is, pound for a pound, one of the better fresh seafood deals you will find.
If you're left wanting more, the store in the shack sells live lobsters, oysters, steamers and mussels by the pound so you can savor the Sound at home.  BYOB and pups are encouraged, making this a real treat for any kind of outing that brings you here.
Lobster Landing, 152 Commerce Street., Clinton, CT is open Monday through Thursday, 11 a.m. to 6 p.m. and Friday through Sunday, 11 a.m. to 7 p.m. 860-669-2005
Facebook.com/LobsterLandingLLC
SaveSave
SaveSave
SaveSave
SaveSave
SaveSave
SaveSave
SaveSave
SaveSave
SaveSave
SaveSave