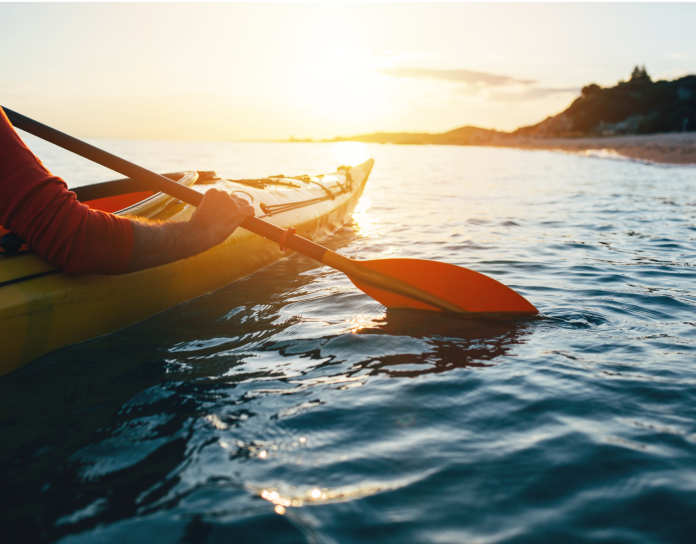 Picture this: a cool full moon kayak adventure, starting with a breathtaking sunset as the moon rises over the white sand beaches of Nantucket Sound.  See Cape Cod like you've never seen it before, with incredible wildlife, secluded beaches, and breathtaking views that will leave you in awe when you stay with Autocamp Cape Cod this summer.
No matter your skill level, this one-of-a-kind kayaking experience is perfect for everyone. Set in the protected Popponesset Bay, there are endless paddling routes for you to explore and enjoy. And with a maximum of eight people per tour, our award-winning guides will ensure that you feel comfortable on the water and learn all about the unique features of this beautiful area.
ACA certified guides will always choose the best route based on the weather, ensuring your group's comfort and enjoyment. Keep an eye out for the variety of birds and wildlife, and don't forget about the fascinating critters to be discovered in the ocean's "Spit"!
As Cape Cod's leading outdoor adventure company since 2008, Rideaway Adventures have been winning "Best of Cape Cod" awards for eight years straight. Their commitment to customer service, philanthropy, and education sets them apart as trailblazers for the environment. With fully ACA certified guide staff, they prioritize safety, education, and fun in all of their experiences.
Rideaway believes that adventure should be accessible to everyone. That's why they also offer kayak, paddle board, and bike rentals, tours, lessons, and once-in-a-lifetime experiences. Their mission is to create ambassadors for our environment through outdoor adventures.
Don't miss out on this incredible opportunity to explore Cape Cod in a whole new way. Book your Cape Cod Explorer Kayak Tour with Autocamp Cape Cod and Rideway Adventures today!